[VIDEO] Hello, Smart Home: Daniel
Welcome to our third installment of "Hello, Smart Home," a new video series where we head inside customers' houses and apartments to see how they're using SmartThings to secure their homes, gain peace of mind, and fit their lifestyle.
Today, we meet Daniel, a product manager who rents a unit in an old, historic rowhouse with his wife and German shepherd. C'mon inside and watch as Daniel shows off some cool new features–including our Dropcam integration.
Check out the other videos in the Hello, Smart Home series.
---
Want to recreate Daniel's smart home setup in your crib? Here's how:
Items:
• 1 SmartThings Hub
• Free SmartThings app
• 2 SmartSense Motion sensors
• 1 SmartSense Moisture sensor
• 2 SmartSense Multi sensors
• 1 FirstAlert Smoke & CO Detector
• 1 FortrezZ Siren Strobe Alarm
• TCP light bulbs
• Several Philips hue light bulbs
• 1 Sonos
• 1 Dropcam
Optional:
• 1 German Shepherd named Brian
---
How to:
Daniel keeps his SmartThings Hub in his living room. From this central location, it can easily reach the all of the connected devices throughout his apartment.
Daniel keeps a SmartSense Motion sensor in his stairwell. Whenever movement is detected when he's not home, the Sonos speaker in his living room plays the sound of barking dogs. Here's how to set this up:
Daniel also triggers the Philips hue lightbulbs in his hallway to flash when he's home and the SmartSense Motion sensor detects that someone is coming. To do this, Daniel is using the Notify With hue SmartApp that was released into SmartThings Labs in April. Here's how this works:
Notify With hue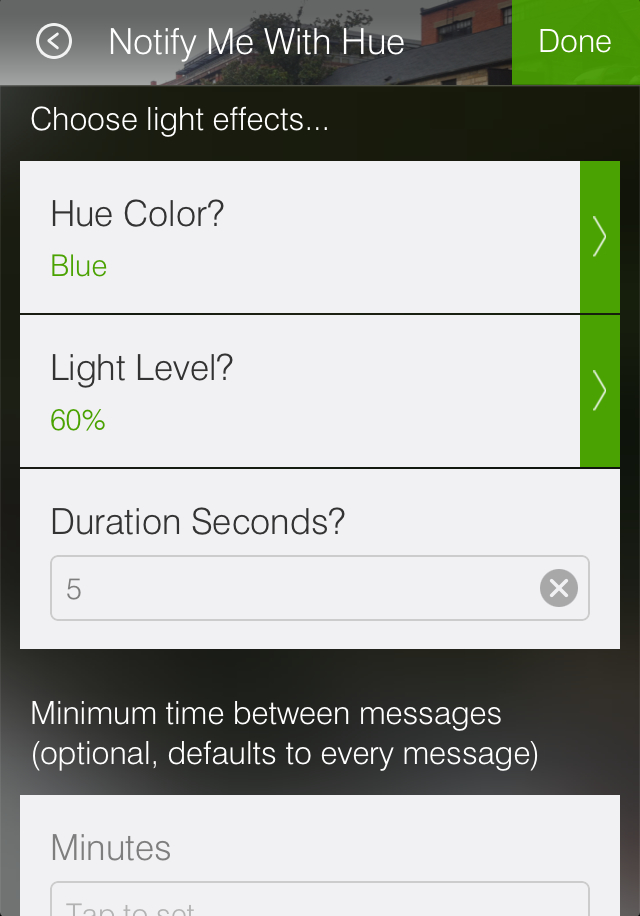 Notify With hue will give you a heads up when different things happen around your home by temporarily turning on connected hue bulbs to a particular color and changing their brightness. After a few moments, the lights will change back to their original state.
You can customize Notify With hue to activate based on motion; when things like doors, windows, or cabinets open and close; or when people arrive and leave home. You can also customize the amount of seconds that the notification light setting stays active before changing back to its original setting.
Daniel keeps a Dropcam sitting right on top of his Sonos in the living room and gets a series of pictures sent to his smartphone whenever there's movement when he and his wife aren't home. To do this, he's set up the new Photo Burst When SmartApp that we recently released into SmartThings Labs. Here's how this works: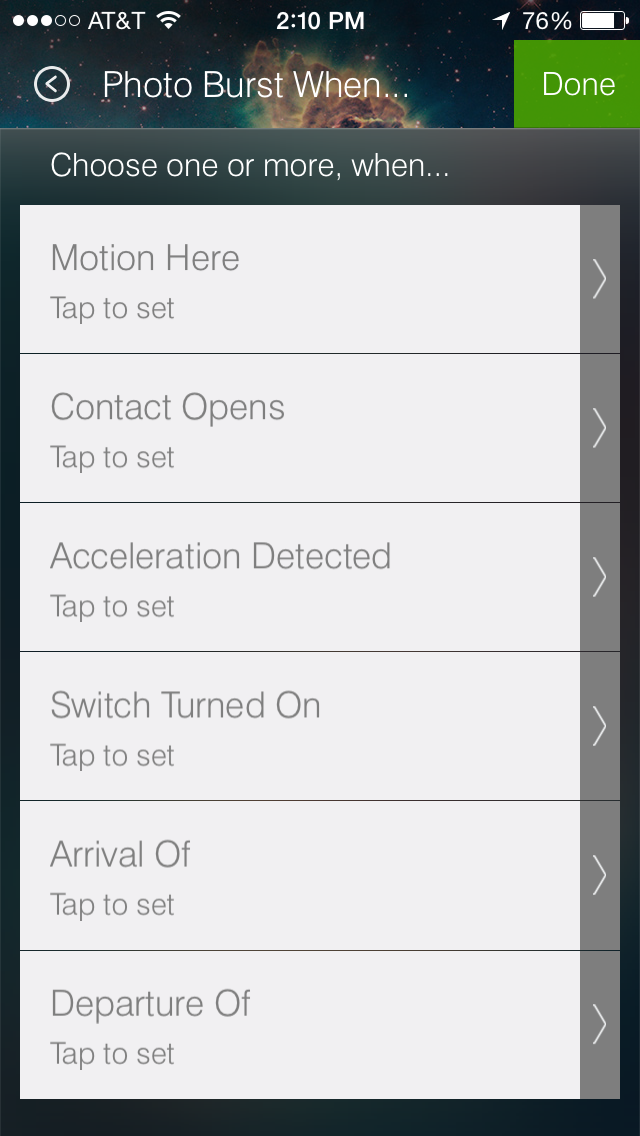 Photo Burst When
By using the Photo Burst When SmartApp, you can set Dropcam to take photos when different things take place in your home (such as when someone arrives home, when there's motion in the living room, when something open unexpectedly, etc.); customize whether you'd like to receive push notifications in addition to images; schedule your Dropcam so that it takes a photo every x amount of minutes and sends it to you; or request that Dropcam take a rapid-fire "photo burst" of five consecutive images when various actions and events occur.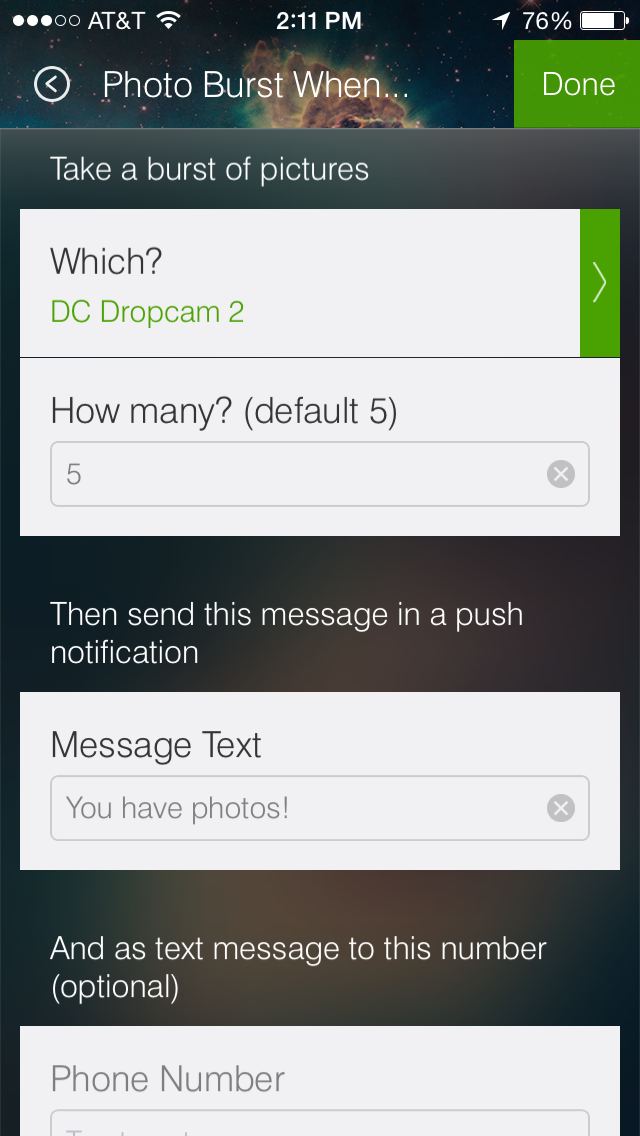 Customers can also plug their Dropcam into a SmartThings-compatible smart outlet and enable a few added privacy features. Once plugged in, you can easily set the Dropcam to turn off when you, a spouse, or other family members are home; and then set it to automatically turn back on when you leave home. You can do this directly from the Lights & Switches category of the Dashboard. Similarly, you can also set your Dropcam to turn on and off on a set schedule.
Daniel has two great use cases set up with the FortrezZ Siren Strobe Alarm–both of which are easily configurable from the Damage & Danger category of the Dashboard. The first is that his alarm blares whenever his connected thermostat sense smoke or cabon monoxide. The second is that his alarm rings whenever the SmartSense Multi on his bedroom window opens when he isn't home. While the video below shows how to set up this use case if excess water is detected using a SmartSense Moisture sensor, the steps are exactly the same–simply select the damage and danger you'd like to monitor against, and then tap "Turn on These Alarms:"
And finally, Daniel has placed a SmartSense Multi on the door of his fridge and has set up his Sonos to play a custom message whenever it opens. Here's how to do this: