The Eyes of Your Home: Dropcam
Last week's additions to SmartThings Labs showed how Sonos can become the voice of your smart home. Today, we're excited to announce that your smart home can now have eyes, too. Introducing the latest addition to SmartThings Labs: Dropcam.
By combining the powers of SmartThings and Dropcam, not only will you be able to receive notifications and alerts about what's happening in your home from anywhere in the world, but now you'll also be able to see a stream of images that's sent directly to your smartphone when different things happen.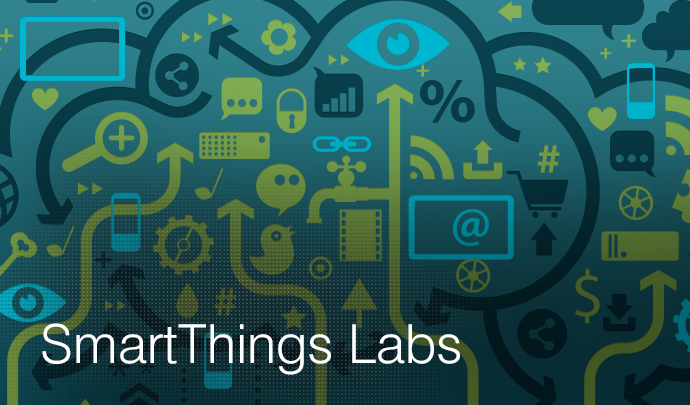 Dropcam is a super simple Wi-Fi camera that makes it easy to keep an eye on your home from anywhere.
Use it to secure your home!
See the kids get home from school!
Make sure your Irish setter isn't on the sofa again!
In addition, the SmartThings Labs integration also introduces some new and exciting features that highlight what's possible on our open platform.
---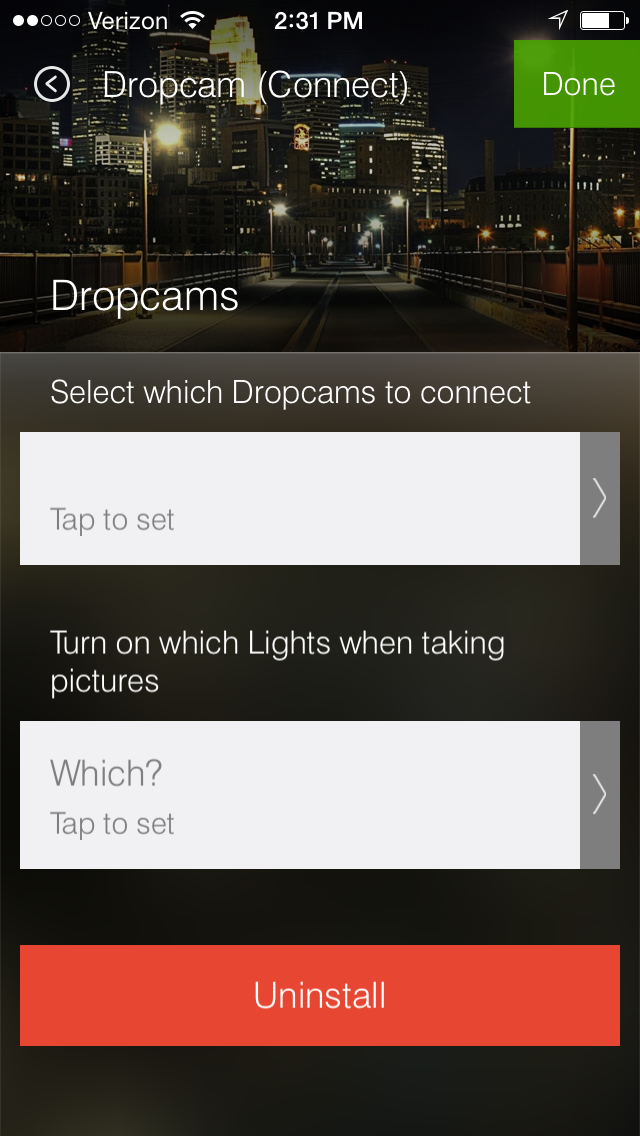 There are two new Dropcam features joining SmartThings Labs: Dropcam (Connect) and Photo Burst When. Here's a rundown of each:
Dropcam (Connect)
Like Philips hue (Connect) and Sonos (Connect), Dropcam (Connect) is where customers can go to pair their Dropcam camera(s) with SmartThings. Customers will first be asked to enter their Dropcam username and password, and then to select which Dropcam cameras they'd like to integrate with SmartThings.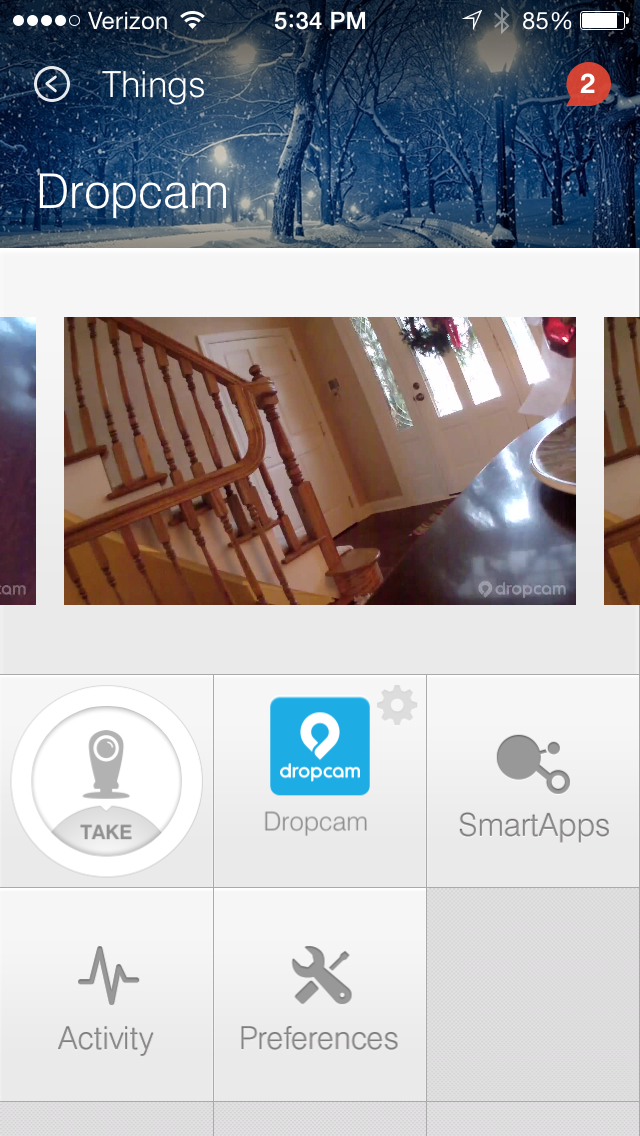 There's also an option to automatically turn on different SmartThings-connected lights as Dropcam takes pictures. This comes in handy in case you plan on triggering your Dropcam to capture images when it's dark.
After SmartThings discovers the different Dropcam cameras in your home, each one will appear as a tile in your Things screen. By tapping the gear above the Dropcam tiles, you'll be able to see an option that lets you take a picture manually, see recent pictures taken by the camera in a carousel, and zoom in to see the images displayed larger and more clearly by tapping them.
Once you've connected your Dropcam with SmartThings with Dropcam (Connect), you'll be ready to start customizing your Dropcam to snap photos when different things happen in your home. This is where Photo Burst When comes in.
Photo Burst When is where you teach SmartThings and Dropcam how you'd like them to work together. Set Dropcam to take photos when different things take place in your home (such as when someone arrives home, when there's motion in the living room, when something open unexpectedly, etc.); customize whether you'd like to receive push notifications in addition to images; schedule your Dropcam so that it takes a photo every x amount of minutes and sends it to you; or request that Dropcam take a rapid-fire "photo burst" of five consecutive images when various actions and events occur.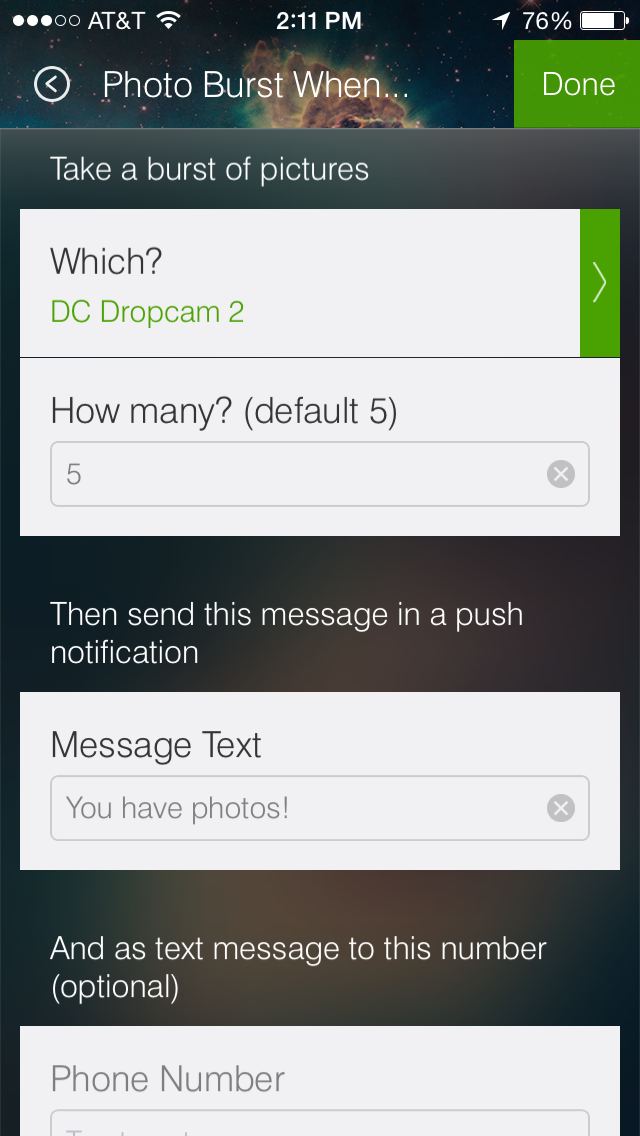 Customers can also plug their Dropcam into a SmartThings-compatible smart outlet and enable a few added privacy features. Once plugged in, you can easily set the Dropcam to turn off when you, a spouse, or other family members are home; and then set it to automatically turn back on when you leave home. You can do this directly from the Lights & Switches category of the Dashboard. Similarly, you can also set your Dropcam to turn on and off on a set schedule.
[UPDATE]
Check out how Daniel, a product manager who rents an apartment with his wife and German shepherd, uses the SmartThings integration with Dropcam to monitor his home:
---
What is SmartThings Labs?
SmartThings Labs gives customers access to a curated group of popular third-party devices and services that can work together with SmartThings while they're still in development. These new product solutions are created by our in-house team, as well as by our growing community of software developers. Together, they make it easier than ever to control all of the connected devices in your home with the SmartThings iOS and Android apps.
As our engineering team works to fine-tune these integrated products and solutions with our platform, they may move from SmartThings Labs into more prominent sections of the SmartThings Dashboard to make way for new integrations and features in Labs. Since Labs is all about experimenting, you may notice that some product features aren't fully polished yet. If you do experience any performance issues, we'd love to hear your feedback to help improve things–just shoot us a note at support@smartthings.com.
SmartThings Labs is open for all SmartThings customers. To access it, tap "Apps" from the left-hand Menu, select the "+" symbol, and scroll down to find the "Labs" section.