[VIDEO] Hello, Smart Home: Jordan
Grab some quarters, take off your shoes, and check out how Jordan and his girlfriend Tracy are using SmartThings to turn their home into a gamer's dream.
Check out the other videos in the Hello, Smart Home series.
---
Want to recreate Jordan's smart home setup in your crib? Here's how:
Items:
• 1 SmartThings Hub
• Free SmartThings app
• 2 SmartSense Motion sensors
• 3 SmartPower Outlets
• 1 SmartSense Multi sensor
• TCP bulbs (or any SmartThings-compatible bulb)
Optional:
• 15 vintage arcade games, which you can probably find and install in an afternoon, right?
---
How to: Get Notifications When There's Motion
Jordan keeps a SmartSense Motion sensor by his front door and receives notifications whenever it detects movement. This can be useful if you'd like to know when the mail comes each day, if a scheduled serviceman or woman arrives, or if a guest is about to ring your doorbell. Here's how you can set this up:
Tip: While the SmartSense Motion sensor works fine for Jordan outside, it's intended to only be used indoors. If you're looking to place a motion sensor outdoors, we'd recommend either placing the Aeon Multi Sensor outside, or placing a SmartSense Motion sensor inside by a window facing out.
---
How to: Trigger Lights to Turn On When Something Opens
Jordan keeps a SmartSense Multi sensor on the inside of his front door. Whenever it opens, he's set it up to turn on the living room lamp (which is plugged in to a SmartPower Outlet). Here's a quick video tutorial showing you how you can set this up: 
---
How to: Trigger Lights to Come On When There's Motion
Jordan can trigger his kitchen lights to automatically turn on simply by walking into the room. There are several ways you can set this up, but they all start with the SmartSense Motion sensor.
Just place one (or two, if your room is large) of these facing the room, and then use the SmartSetup section of the SmartThings app to connect it to a lamp, smart bulb, or in-wall switch. Here's a video showing you how you can do this:
---
How to: Control Pluggable Lamps, Electronics, or Vintage Arcade Games
Instead of having to haul each of his 100-pound arcade games out from the wall, reach around to the back, and plug them in to power them on, Jordan is able to control his game room setup with just a few taps in the SmartThings app.
To do so, plugged in several SmartPower Outlets into a power strip, and then he just plugged in the power cord from the arcade into the outlet, like this: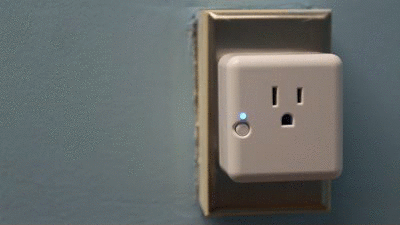 And then, just as you can turn on a lamp or toaster, or coffee machine, he can then turn on the arcade games with a simple tap of a button using his wall-mounted tablet (or smartphone), like this: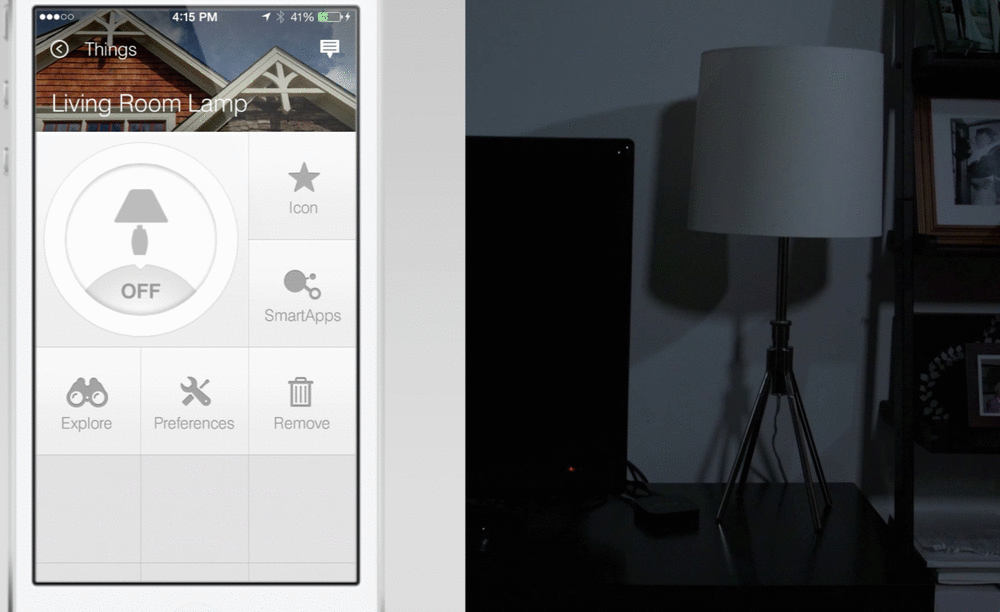 ---

How to: Create a wall-mounted dashboard:
We've seen lots of creative ways that SmartThings customers have created wall-mounted dashboards. Here's how Jordan created his:
"I just used a Samsung Galaxy Tab 3 Lite and mounted it to my entertainment center using outdoor tape. Similar to the action-based dashboard detailed on the Community forum, my tablet is set to stay on while plugged in. There's a male-to-male audio cable connecting it to my receiver so it can be used as a Internet-music controller. My next project is hooking it up to Sonos."