How SmartThings Saved the Day
You don't often think about the importance of humidity in the winter. But as frigid temperatures continue their grip on much of the country this week, we wanted to share a story from the SmartThings Community about a customer in Texas who figured out a way to keep his home's humidity level from plummeting as temperatures dropped.
"Winter has finally set in here in Texas, and last night was the first time our heater had to really work all night to keep the house warm.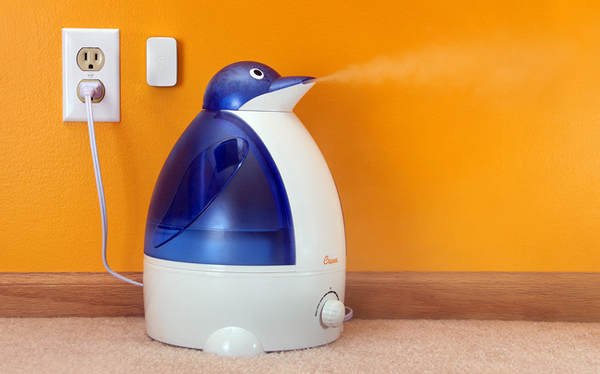 We do not have a built-in humidifier, and I woke this morning at 1 am with my mouth as dry as the desert. Shortly after waking, my 14-year-old son walks in with a nose bleed. Long story short, the humidity in our house had dropped to around 10-12%. (For some perspective, the humidity in the northern Sahara Desert hovers around 25%).
Within an hour this morning, I found a shared SmartApp that would turn a switch on or off based on a humidity sensor and had a functional system to regulate the humidity in our bedrooms using Z-Wave switches and humidifiers. Little solutions like these make the SmartThings platform invaluable." – Jody
---
Want to recreate Jody's setup?
Easy. Just get a SmartThings Hub, a SmartPower Outlet, and a SmartSense Temp/Humidity sensor. Then, download the free Smart Humidifier SmartApp, and ensure that your home and family stays happy and healthy this winter.
Smart Humidifier
Created by: Sheikh Dawood
Protect your home and belongings by maintaining a healthy humidity level indoors with this SmartApp.
The Smart Humidifier works by automatically turning on a humidifier (that's plugged in to a SmartPower Outlet) whenever a device like the SmartSense Temp/Humidity sensor detects that the humidity has dropped below a certain point; and also automatically turning off a humidifier whenever a humidity-sensing device detects that the humidity has reached a certain level. In addition to automatically turning your humidifier on or off, this SmartApp can also send you a push or text message whenever humidity levels rise and fall to a certain point.
To access the Smart Humidifier SmartApp, tap the "+" icon from the SmartThings Dashboard to go to SmartSetup. Then, scroll to the right until you see the "More" header. You'll find the Smart Humidifier SmartApp in the "Convenience" category.