Creating a Kid-Friendly Smart Home
Inspired by how another customer is using SmartThings with his young children, David describes how he and his wife are using SmartThings to control their home's temperature, automate their lights, and stay connected to their two young sons.
---
"I got interested in home automation awhile back, but it was only last year that I felt that it had reached enough maturity and became affordable enough to be truly worthwhile.
I live with my wife and two small boys, and when the weather's nice, we spend a large portion of our time outside of the house. So for us, the initial use case was to control the thermostat remotely.
[pullquote]I'm really glad that I decided to go the SmartThings route, because doing so opened up the whole realm of home automation."[/pullquote]I started doing some research and found that for almost the same cost, I could either invest in a Wi-Fi-based thermostat like Nest or Honeywell, or purchase a SmartThings Hub and a compatible Z-Wave thermostat.
I'm really glad that I decided to go the SmartThings route, because doing so opened up the whole realm of home automation. I've slowly added devices and built my system out gradually. This has worked to my advantage for a number of reasons: It's spread the cost of setup over about six months and allowed me to search for bargains.  I have been able to get portions of my system up and working before moving to the next project.
It has been key in my household to build up what we in the SmartThings Community call the "FAF," or the Family-Acceptance Factor. In my household, the best recipe for success is that everything just works as it should. That means for lights, you touch a switch and the corresponding light goes on. The fact that those same lights will also turn off automatically when everyone leaves or is in bed, or that they'll turn on when the first person comes downstairs in the morning is a bonus that, quite frankly, my family might not notice or appreciate, but I certainly do.
I have these lights set up so that when the mode switches to Away, all of the lights in the house turn off. I also have them set up so that in Night mode, my lights become motion activated and turn off after 10 minutes of inactivity.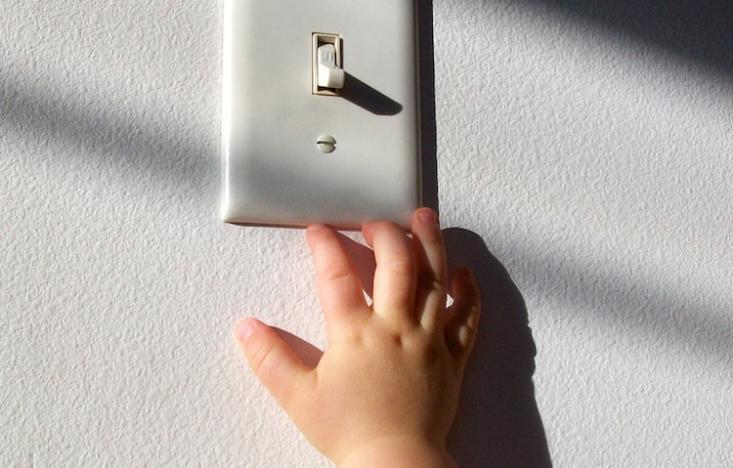 I also have a playroom in the basement set up for my two young sons. There, all the lights come on automatically and shut off after 10 minutes of inactivity during Home and Evening modes, so that my 4-year-old can go down there by himself and I don't have to worry about the lights.
Knowing that he doesn't have to reach for a light switch, makes me feel better because it is safer, but then I also don't feel the need to go downstairs to ensure those lights are off.
Another big-win item has been the setup of a temperature-controlled heater in my youngest son's room that only runs when he is sleeping. I have a SmartSense Multi sensor set up to monitor the window for security, but since it also measures temperature means that I can set it to trigger the remote heater that's plugged into an Aeon Labs smart power outlet to turn on when it gets too cold.
Want to see your kids eyes light up?  During the holiday season, I have my Christmas lights set up to turn on for 15 minutes whenever my wife's or my smartphones get close to home.
Another way that we use our phones as presence sensors is to set up a secondary Geo-Fence location and have SmartThings send us a notification when someone arrives at the daycare to pick up our youngest son. That way, we know that things are okay and on schedule." – David
---
We want to know how you're using SmartThings! To have your story featured, drop us a line. Thanks!