Daisy the Wandering Dachshund

A customer writes in to explain how he uses SmartThings to keep an eye on his dachshund, Daisy, and gets alerts if she leaves home and doesn't come back in 20 minutes.
---
"I recently purchased a SmartThings Kit to replace a legacy home automation controller which lacked smartphone applications and did not support Z-Wave and other modern technologies. I've started to play around with the sensors for different use cases and one that's been particularly interesting to me is keeping track of our dogs.
We have three small dogs (two dachshunds and a toy fox terrier) that mainly stay inside. One of our dogs in particular, Daisy, sometimes likes to sneak out of the door and explore the neighborhood. On a couple of occasions, she's dug a daring escape tunnel under the fence to get out. I thought that using the SmartSense Presence sensors would be a good way to notify us if Daisy made a break for it.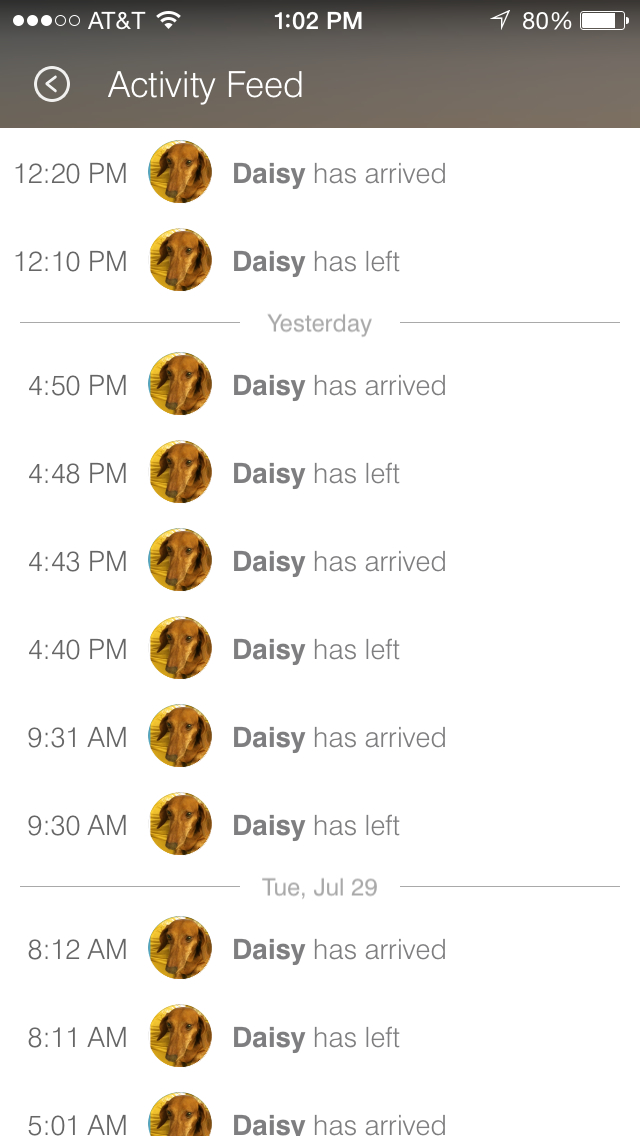 We have a doggie door that allows her to go in and out to the back yard so she can do her business, run around, and  just bark at the world. At first, I was curious to know how often she goes in and out and for how long, so I put a SmartSense Presence sensor on Daisy's collar and just set up a simple action to be notified if she leaves the house. (The range of our SmartThings Hub extends midway into our back yard.)
After a few days of monitoring this, we learned some things that we were not previously aware of. One is that she sometimes goes out to the backyard in the middle of the night. We had always thought they slept through the night inside. The other thing we learned is that she would only go outside at night for less than 15 minutes at a time.
I soon realized that I didn't want to get a push notification every time she comes and goes. What I really needed was a method to notify me if Daisy had been gone more than a certain amount of time (say 20 mins). This would avoid alerts for any occasional trips through the doggie door to the back yard, but would still notify me if she was gone for a long period of time.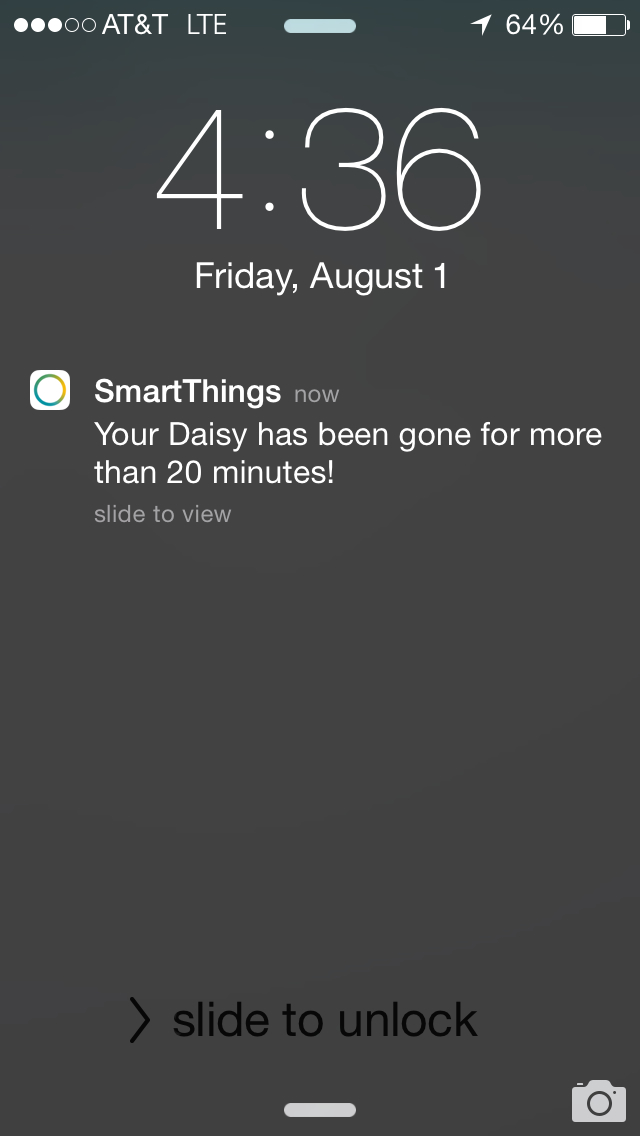 I did some digging around on the SmartThings site and was really impressed with the developer tools and the power of the Platform. I saw a number of sample applications but nothing exactly like what I needed. However, I was able to combine two different applications: one that tracked SmartSense Presence sensors and another that sent an alert if the garage door was open longer than a certain period of time.
I'm not a developer, so it took some playing around and some trial and error, but I was able to accomplish my goal within a few short days and create a SmartApp. I posted it to the Community site in reply to a question about a similar use case.
To the right is the result in getting an alert for Daisy's sensor being out of range for more than 20 minutes." – Miguel
---
Hint!
Miguel's solution is great and showcases the power and creativity of the SmartThings Community, but you actually don't need to be a developer or create a new SmartApp to get alerts if people or pets are gone for more than a certain amount of time.
Instead, you can just use Hello, Home to create a new action corresponding to what you'd like to monitor (ie: "Ben is Gone") and then follow the steps outlined in this narrated video: