Who Let the Dog Out?
When SmartThings alerts a couple that their dog has just escaped from the yard, they set out in a panic toward a busy four-lane intersection a block from their house.   
Everyone has a story to tell. We want to hear yours. To have your story about SmartThings featured, please check out our submission guidelines and send it on over to reimaginereal@smartthings.com. 
"I don't have a fenced yard at my house, so my husband and I tie our beautiful three-legged mutt, Omar, out on a tie-out when we let him outside.
While he was outside this morning, the tie-out broke in a spot that we hadn't noticed had rusted out after it had been outside in the snow all winter. When we went outside, Omar was gone!
Luckily, my husband got an alert on his phone showing that the SmartSense Presence sensor Omar wears on his collar had left home (the range of our SmartThings Hub extends a little bit beyond the end of our yard), and he was able to find him just down the block hanging out in a neighbor's front yard.
Since we live half a block from a very busy four-lane road, it was great to be able to respond quickly before he made his way to the intersection he was headed toward. But what's even better is having the peace of mind to know that if he gets out again, SmartThings will let us know. Thanks, SmartThings!" – Emily
---
Want to use SmartThings to know when people, pets, or cars arrive and leave home? Here's how:
You can easily set this up by tapping on the gear on the Home & Family section of your SmartThings Dashboard. If the person, pet, or car is already on your SmartThings account, tap by their name. If they are not, tap "Add a person, pet or car," add a name, and select whether you'd like to be notified when they come and go by using a SmartSense Presence sensor, or their mobile phone.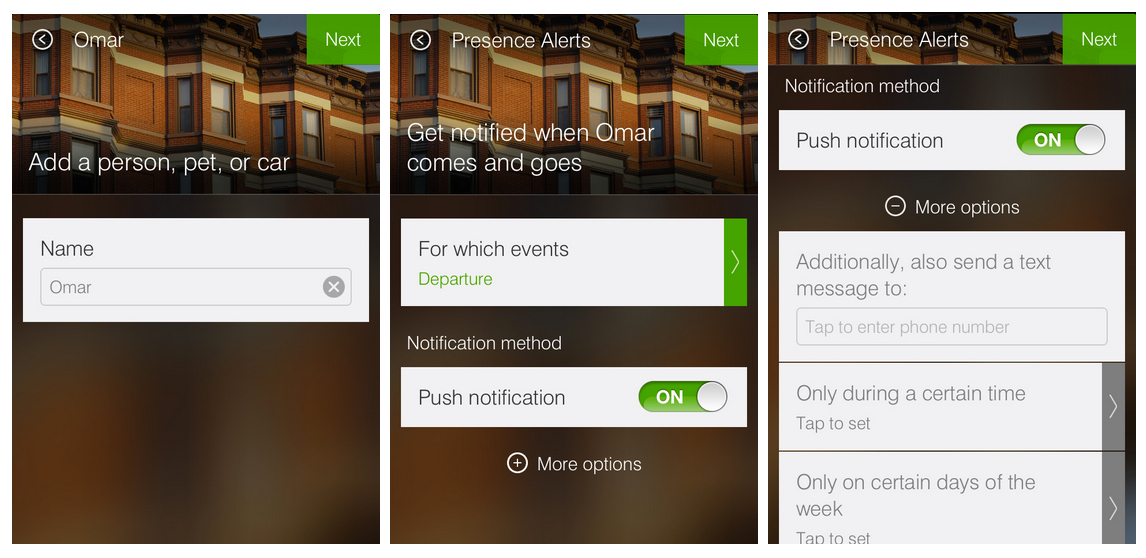 You'll then be asked what types of notifications you'd like to receive for this person, pet, or car – ie: every time they arrive home, arrive home and leave, etc. You can tap the "More options" + icon to also send notifications to other family members, to only receive notifications at certain times of the day, only on certain days, and so on.
And… that's it!