SmartThings Energy: New Partnerships and Enhanced User Experience Features 
In today's fast-paced world, where energy consumption is a pressing concern, we're leading the charge in revolutionizing energy management—and are excited to introduce a range of new features for our SmartThings Energy service.
These enhancements are designed to give you greater control over your energy usage and redefine the way you interact with your smart home, all while ensuring convenience and efficiency. Read on to learn what's new with SmartThings Energy.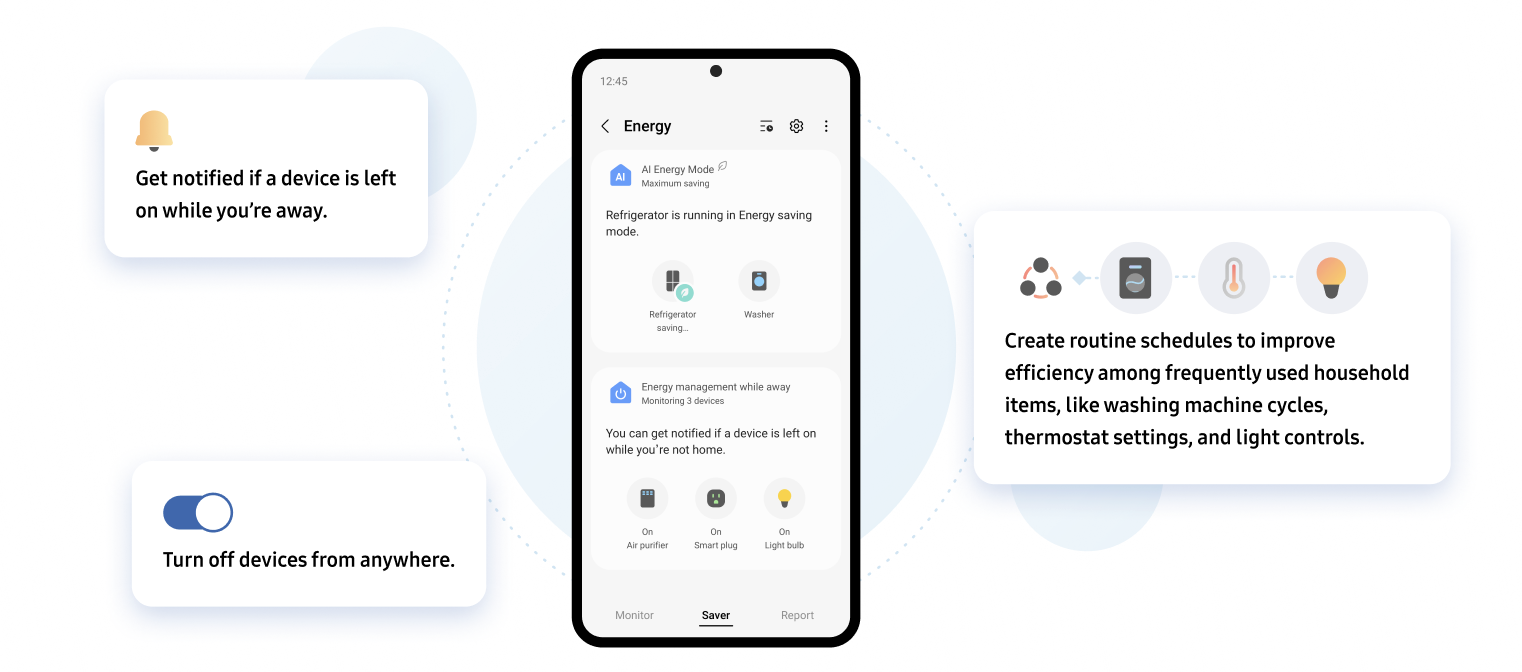 Electricity Maps Partnership
We've teamed up with Electricity Maps, a renowned service that provides visual representations of electricity sources and associated carbon dioxide emissions. Through the integration of Electricity Maps within the SmartThings app, you can learn about your electricity's origin and carbon footprint with ease, and use this data to make informed decisions about your energy usage. Start taking the next step towards more eco-conscious living.
Expansion of Supported Devices
In addition to supporting connected Samsung appliances, TVs, and third-party devices, SmartThings Energy is now also compatible with most smart plugs, thermostats, and lights. With this expansion, we've made it easy for users to connect a broader range of energy-consuming devices with their "Away" mode. Rest assured that your devices are automatically turned off when not in use, reducing unnecessary energy consumption.
Enhanced Automatic Demand Response (DR) Functionality
Our SmartThings Energy update comes with advanced automatic Demand Response (DR) features, allowing users enrolled in energy savings programs to manage their devices more intelligently. Before, users would receive notifications of a DR event and manually adjust their devices or set up automations.
Now, with the latest update, you can set up your smart devices and SmartThings Energy will automatically adjust them, turning off lights or plugs, and activating more economical modes for thermostats or Samsung appliances that feature AI Energy Mode.
Partnership with Resideo to Unlock Energy Savings
If you live in California, you're in luck. SmartThings Energy users in The Golden State can now enroll their homes with Resideo's energy program to enjoy cash rewards. By participating in the program, you can receive up to $100 via gift card when you're approved for the program. Energy costs are at their highest, however, our partnership with Resideo lets you earn rewards for reducing energy use when the grid needs it most, helping your community's grid reliability.
Enhanced User Experience and Energy Savings
With a dedication to innovation and a greener future, we're taking energy management to the next level. Our SmartThings Energy updates and partnerships were designed to give you greater flexibility and convenience when it comes to managing your smart home devices, ultimately leading to significant energy (and financial) savings. And this is just the beginning.
To unlock the full suite of energy management capabilities, activate SmartThings Energy in the SmartThings App, or visit https://www.smartthings.com/smartthings-energy to learn more.
Sign up for exclusive deals, tips, and news