A New SmartApp That Gives Your Home a Voice
Many people have already seen the SmartThings Labs integration with Sonos, but today, we're happy to announce a brand-new way to give your home a custom voice with SmartThings.
Enter ObyThing.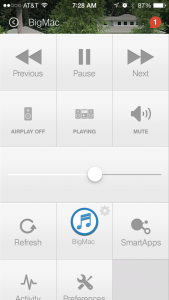 Created by Brice Dobry, a developer in the SmartThings Community, the ObyThing Music SmartApp allows you to play a sound or start a playlist when your SmartThings devices are activated. Here's a list of features that are possible with SmartThings and ObyThing.
In addition, you can also perform many of the same actions with the ObyThing Music SmartApp as you can with the SmartThings Labs & Sonos integration–without having to purchase the actual Sonos speaker. For instance:
• Set up custom alerts when things happen (ie: a barking dog if the SmartSense Multi sensor or SmartSense Open/Closed sensor on your door or window opens unexpectedly)
• Trigger a custom greeting to play when a family member enters the front door
• Set up a message to play when your mail has arrived, if a door opens unexpectedly, or when a variety of other things take place
Note: In order to perform these actions, you'd simply access the Sonos Notify With Sound SmartApp that's found in SmartThings Labs. When prompted to select a speaker system in the field "On this Sonos player," you'd just select "ObyThing"–or whatever it is that you've named it.
Ready to get started? Here's how:
Purchase the Mac app ($3.99) from the Apple App Store, download, and install it.
Start the app and a small icon will appear in the menu bar in OSX.
Install the ObyThing Music SmartApp on your smart phone (See video below)
User configures the SmartApp

First add the IP address and port info from the Mac App
Then select which hub to set it up with
Optionally, assign a name and choose the specific modes in which to allow the app to run
Here's a video showing you how to set up ObyThing on your SmartThings app. Note: The ObyThing Music SmartApp is located in the SmartThings Labs category, which is found under the More header of SmartSetup.
And here's a video of ObyThing in action with Airplay:
Sign up for exclusive deals, tips, and news