Logitech Harmony Joins SmartThings Labs
Note: We are in talks with Logitech Harmony to improve this integration and should be releasing changes that greatly enhance its performance and reliability soon. Please stay tuned, and thank you for your patience. – The SmartThings Product team
We're very excited to announce the newest addition to SmartThings Labs: Logitech Harmony. By combining the power of Harmony and the SmartThings open platform, you can now seamlessly integrate your smart home with your home entertainment system to control and automate 270,000 devices from more than 6,000 brands.
---
Smart Home Entertainment
This SmartThings Labs integration allows you to control the Harmony activities of your favorite home entertainment devices directly from your SmartThings app. By connecting SmartThings and Harmony, you can initiate Harmony activities via SmartThings triggers. For example:
• Turn on Cable TV When I Return Home
• Turn off the Stereo When I Leave
• Turn on My PlayStation or Xbox When I Change to Game Mode
• …and much more
These on/off Harmony actions can be initiated with the following SmartThings triggers: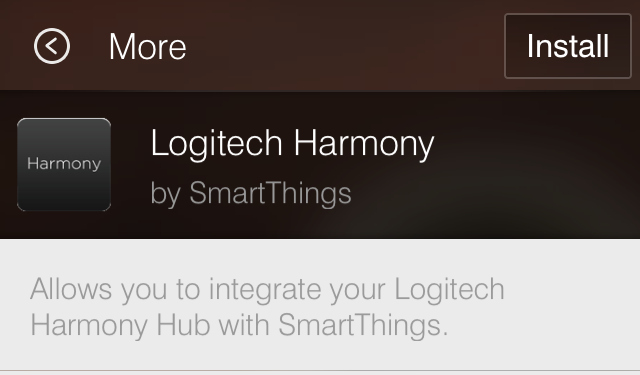 • mode change
• contact sensor opens/closes
• acceleration detected
• motion starts/stops
• switch turned on/off
• person, pet, or car arrives/departs
• button press
• scheduled time
You can also control SmartThings-powered lights and switches directly from the new Harmony Home Control remote.
Here are just a few of the thousands of things that are now possible:
• Turn on the local news or the Weather Channel on your TV each morning as you wake up
• Trigger your TV to turn on automatically when you come home from work each day, and to turn off when you leave the house
• Set your Sonos to automatically play a certain station or playlist when you open a door
• If you've already set up a SmartThings Movie Time mode (or something similar), you can now also trigger a "Play DVD" activity so that the movie starts playing at the same time as the lights dim.
• Invite David Blaine over to your home. Tell him that because of a magical gift that you've been born with, you have the power to turn on your TV, play a movie, or blast the stereo just by moving this here frame on the wall. Move that frame, and blast that stereo. Impress David Blaine. Go on tour with David Blaine. Become best friends with David Blaine.
---
Setup:
To integrate SmartThings with Harmony, you'll need one of three new products that Harmony recently unveiled: the Harmony Home Hub, the Harmony Home Control, or the Harmony Ultimate Home.
An important note: To access the SmartThings integration, existing Harmony customers will need to upgrade their firmware. Logitech tells us that upgrade will be available in the coming months and that there will be a small fee associated with it. If you have further questions about this forthcoming firmware update, please contact Logitech.  

For new Harmony customers, we've put together a series of videos guiding you through the setup process.
First, you'll want to use the Logitech Harmony app to set up your Harmony Hub with SmartThings, like this:
After you've set this up, you can follow this video to begin controlling your SmartThings-powered lights and switches using the Harmony app:
Next, you'll want to use the SmartThings app to set up and trigger different Harmony Activities:
And now you're all set to begin using SmartThings Labs to integrate your smart home with your home entertainment setup. Ahem… world's first smart wall-mounted TV, anyone?
---
 

What is SmartThings Labs?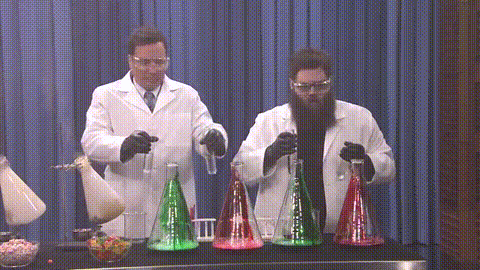 SmartThings Labs gives customers access to a curated group of popular third-party devices and services that can work together with SmartThings while they're still in development. These new product solutions are created by our in-house team, as well as by our growing community of software developers. Together, they make it easier than ever to control all of the connected devices in your home with the SmartThings iOS and Android apps.
As our engineering team works to fine-tune these integrated products and solutions with our platform, they may move from SmartThings Labs into more prominent sections of the SmartThings Dashboard to make way for new integrations and features in Labs. Since Labs is all about experimenting, you may notice that some product features aren't fully polished yet. If you do experience any performance issues, we'd love to hear your feedback to help improve things–just shoot us a note at support@smartthings.com.
SmartThings Labs is open for all SmartThings customers. To access it, tap the "+" icon at the bottom of the SmartThings Dashboard to go to SmartSetup. Then, scroll to the right to find the "More" category, where SmartThings Labs is located.
Sign up for exclusive deals, tips, and news