Galaxy Upcycling
Repurpose Older Galaxy Smartphones into Smart Home Devices with SmartThings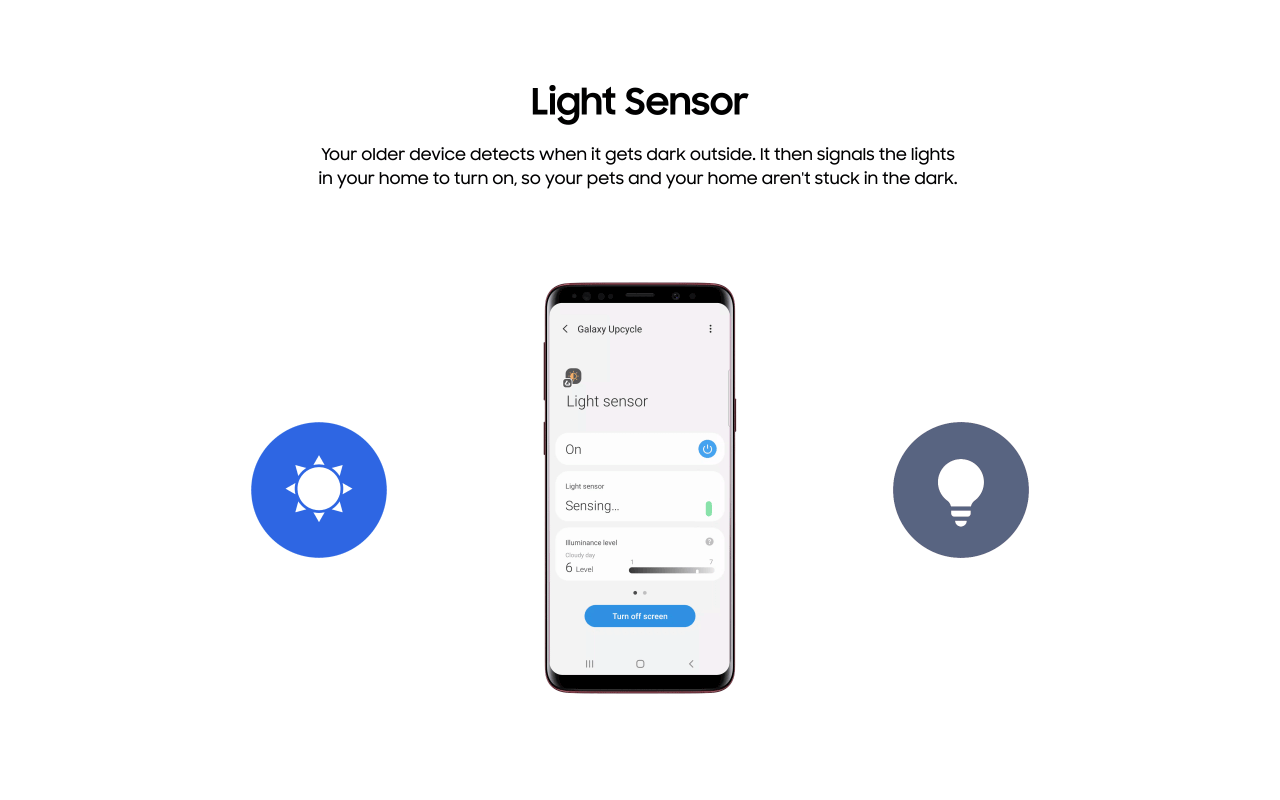 SmartThings is pleased to share its integration within Samsung's Galaxy Upcycling at Home program, giving new life to older Galaxy smartphones not currently in use. As part of Samsung's commitment to responsibly recycling devices, users in the United States, United Kingdom, and Korea can leverage SmartThings to turn older devices into connected devices to enhance their living experience and extend the lifecycle of their products.
Users can transform their old devices through SmartThings Labs, a new feature within the SmartThings app. Leveraging the power of SmartThings and repurposing built-in sensors within Galaxy devices, users will initially experience enhanced sound and light control features, including:
Using an improved artificial intelligence solution, Galaxy devices can more accurately distinguish sounds in everyday surroundings, and users can choose to save certain sound recordings. For example, if the device detects sounds such as a baby crying, dog barking, cat meowing, or a knock, it will send an alert directly to the user's smartphone and the user can listen the recorded sound.
Galaxy devices can be used as light sensors to measure the brightness level of the room. Users can easily set the device to automatically turn on lights or the TV through SmartThings, if the room becomes darker than the preset standard of light.
Through Galaxy Upcycling at Home, users will also be able to connect older devices effortlessly to SmartThings, allowing them to interact with more than 5,000 IoT devices across 200 brands within the SmartThings ecosystem. The Galaxy Upcycling at Home feature is available on all S, Note, and Z series released from 2018 (S9, Note9 and above) with Android 8.1 and above.
Samsung and SmartThings are committed to building environmental sustainability and Galaxy Upcycling at Home is an innovative way to minimize global e-waste. The Galaxy Upcycling at Home program supports Samsung's global efforts toward meeting its goal of collecting 7.5 million tons of e-waste and making use of 500,000 tons of recycled plastic by 2030. This first phase of the program officially launches today, with new features to be released in the near future.