When Smart Homes Become Smart Communities
On Sunday morning, many residents the San Francisco Bay Area awoke to the dramatic effects of a 6.0-magnitude earthquake. As we begin the cleanup process, a lot of our friends, colleagues, and customers in the affected region let us know of an interesting finding: their smart homes registered the earthquake's vibration at the exact minute that it shook.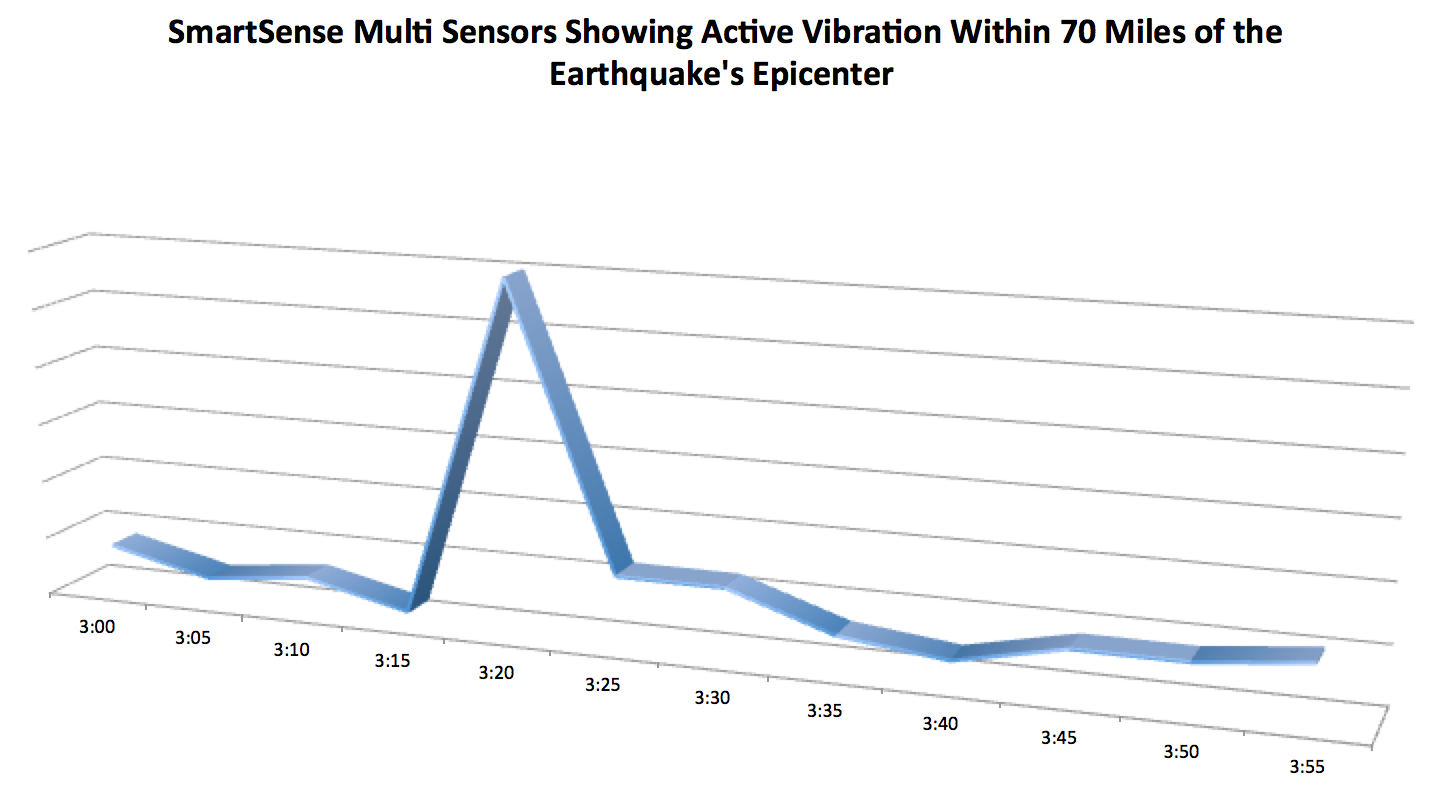 As our thoughts remain with those affected, this phenomena triggers an interesting conversation about the potential for smart homes to contribute to smart communities, and how those smart communities can sense environmental changes and potentially even react to them at both a local and a global level.
We've always believed that some of the most powerful aspects of an open, democratized smart home Platform will be the secondary implications that spring from it. As the everyday objects around us become intelligent and start to tell us things that we never knew about our homes, what can they tell us about the larger area where we live? Like a photo mosaic, we believe that when you look at the granular data about what is happening inside our walls from a larger vantage point, it can paint a fascinating and valuable picture about our communities.
Just think: If the built-in accelerometer inside a SmartSense Multi sensor can register if homes within certain Zip codes did or didn't experience a vibration above a certain threshold today, imagine what is possible in the near future.
Instead of relying on flash flood warnings that alert entire cities and counties about the potential for water damage… what happens when you can analyze water reports and patterns from your exact street, as reported by moisture sensors placed in peoples' basements?
Instead of putting on clothing and planning what to wear based a forecast that's several hours old for your city… what would happen if we could easily look up micro-climate sensing from devices like an Aeon Multi-sensor, Netatmo, and others to measure variations within cities?
Instead of waiting for a traffic report on the radio or scanning Google Maps to gauge commuting times…. imagine being able to opt in to public geofences placed along highways and popular roads to pinpoint travel times to the exact minute?
Of course this is just the tip of the iceberg. As our individual homes start to wake up and breathe intelligence into our surrounding communities, we have the potential to all be connected through a safer, smarter planet.
nike air max pas cher | nike air max pas cher | nike air max pas cher | nike free run pas cher | Nike Air Jordan Pas Cher | nike air max pas cher | nike free run 5 pas cher | escarpin louboutin pas cher | nike air max 90 pas cher | air max 1 pas cher | air max femme pas cher | bottes ugg pas cher | nike air max pas cher | nike air max pas cher | replique montre | bred 11s for sale | jordan 6 carmine for sale | Louis Vuitton Outlet Online | bred 11s for sale | gucci outlet online | rolex replica watches