Show Us Your SmartThings Contest Winners
We recently launched a contest to highlight the many creative, fun, and valuable ways that our customers are using SmartThings, and the day has finally come to announce the winners!
We'd first like to thank everyone for your entries. From the ordinary use cases to the extraordinary videos, your entries totally blew us away and showcased just how much is possible with an open smart home platform.
We received lots of great entries that focused on the products people own…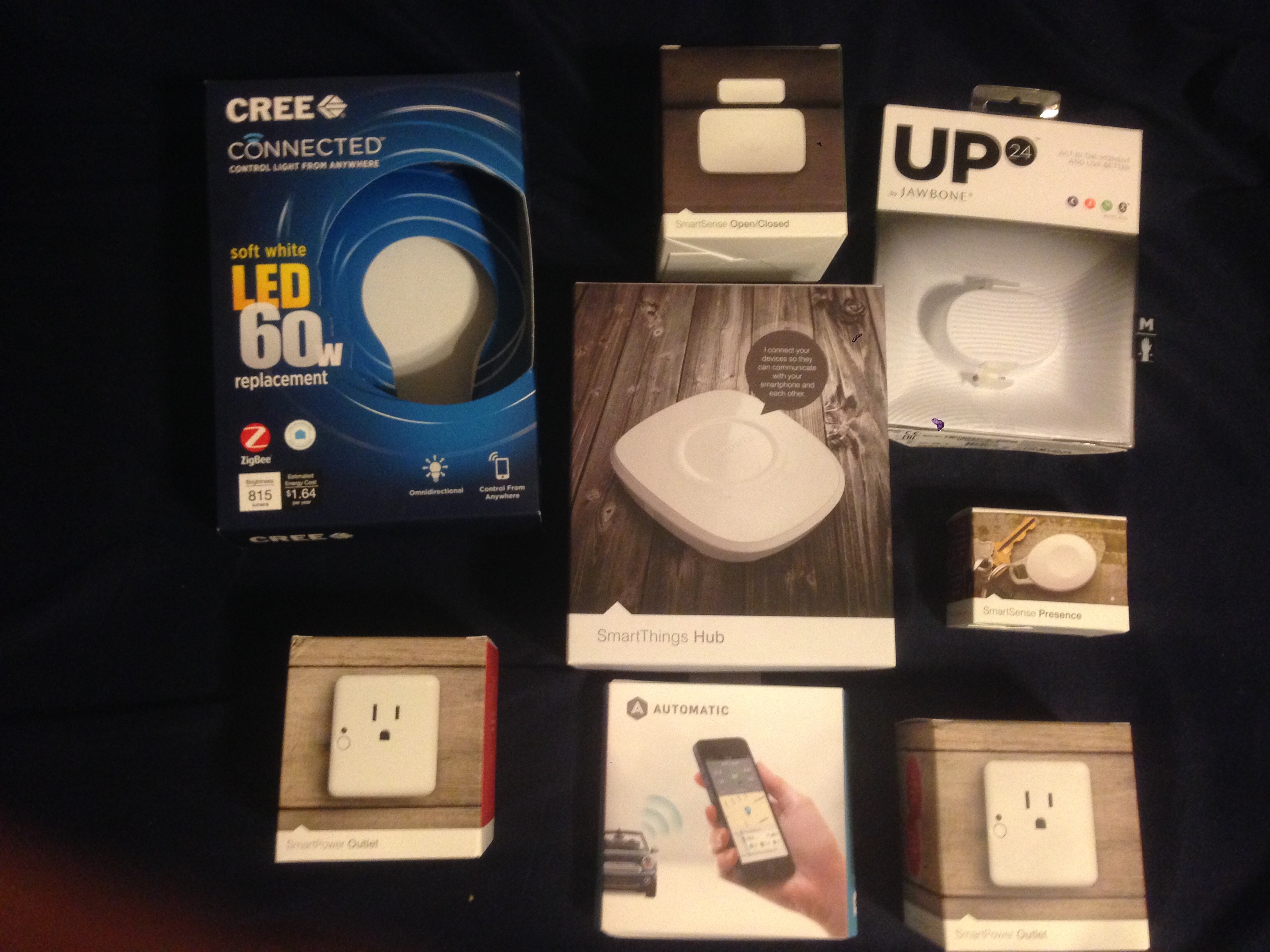 "Hub, 2 outlets, presence sensor, open/closed sensor, jawbone up for turning 2 Cree light bulbs off at night, Automatic along with IFTT.  iPhones as presence sensors and have a minor security set up by using IFTT and the app Manything on an older iPhone. I plan to use my Pebble Watch also. Love my SmartThings!" – Justin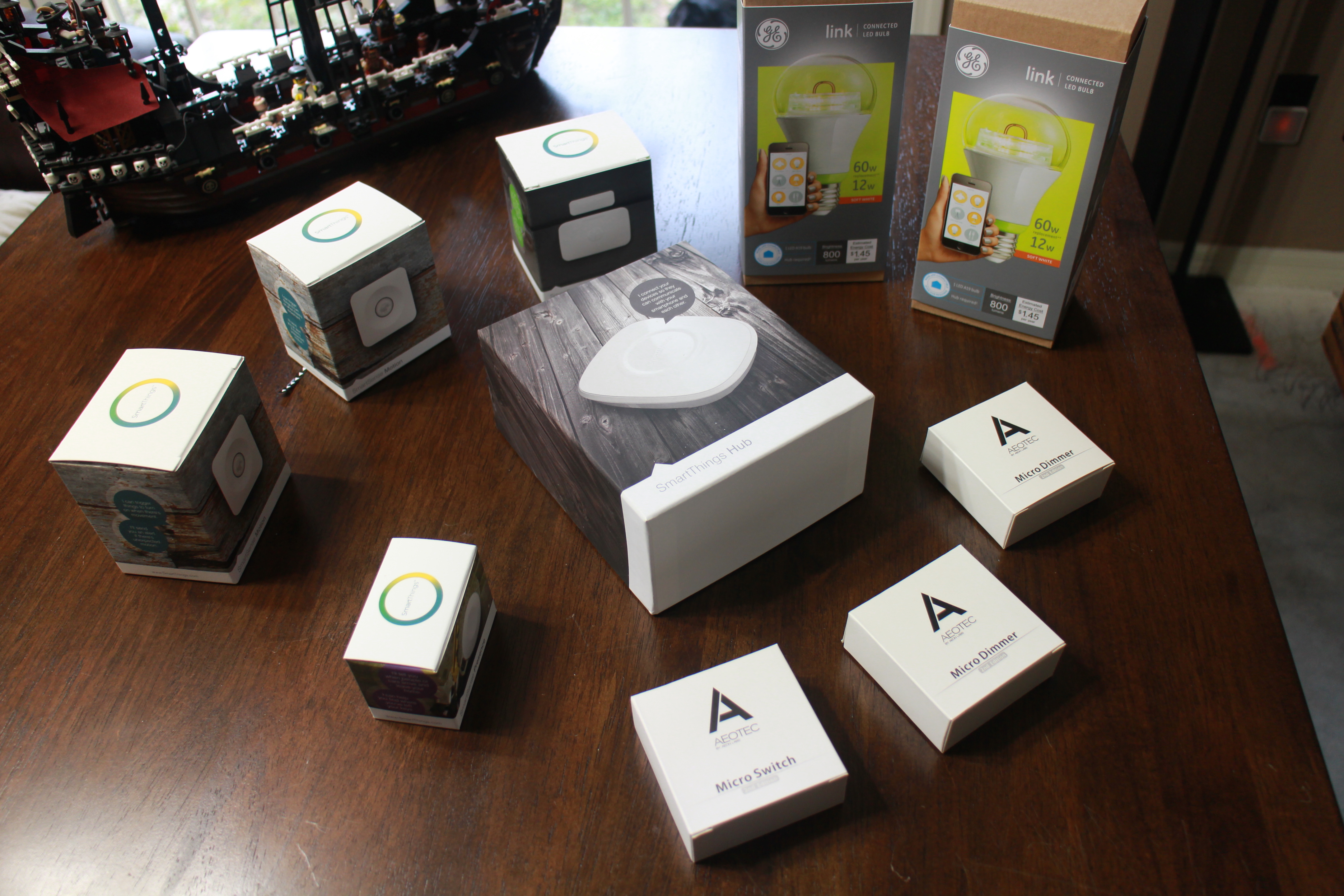 "What I love most is the range of products and manufacturers that I can integrate into my system. I can control my lights in my living room, (and soon the rest of the house), from anywhere, my kitchen lights come on when I enter the kitchen and turn off when I leave, and my front entry light comes on as I pull into the driveway. I'm alerted when I'm out if there's anything going on in my house, which gives me peace of mind. And with IFTTT I've created recipes to control my security cameras as well. And I can control it all from my iPhone and iPad." – Matt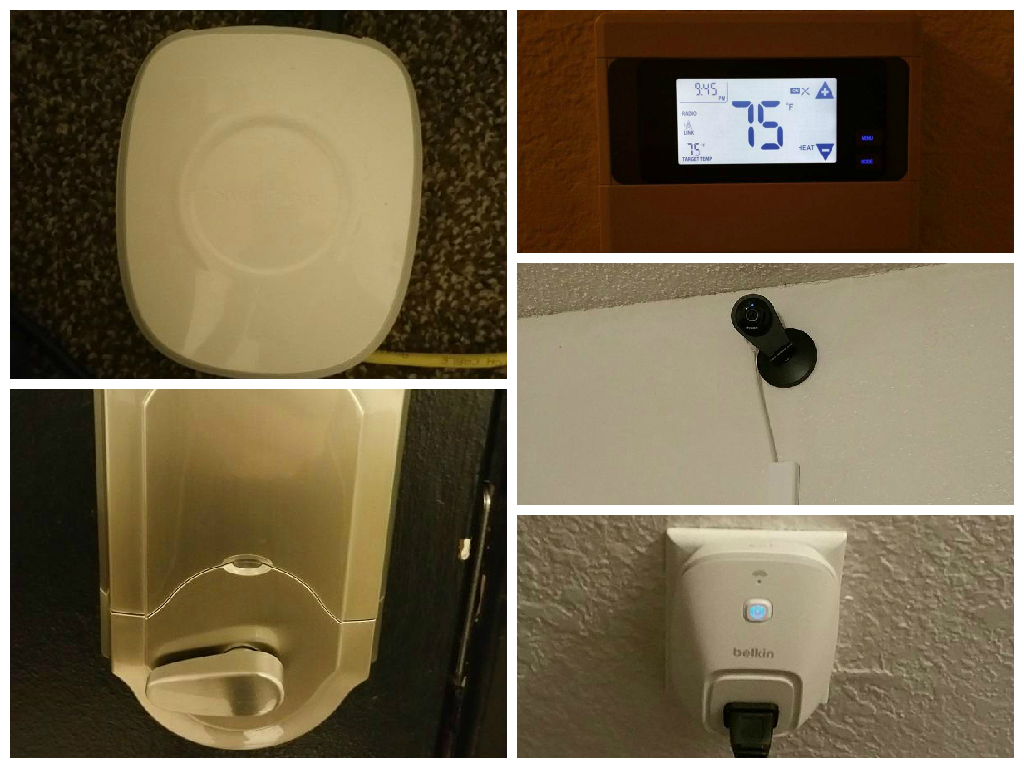 "I now have 27 things total including an Ivee voice-activated alarm clock. Very happy with SmartThings in general.  I was able to make my own smart home and make my life easier." – Terry
---
We also received entries that focused on single, valuable use cases…
Mike is using SmartThings to get a heads up when his laundry is done:

"Washing machine has been closed for 60 minutes." – Mike
Camden is using SmartThings to clean his house when he's not there: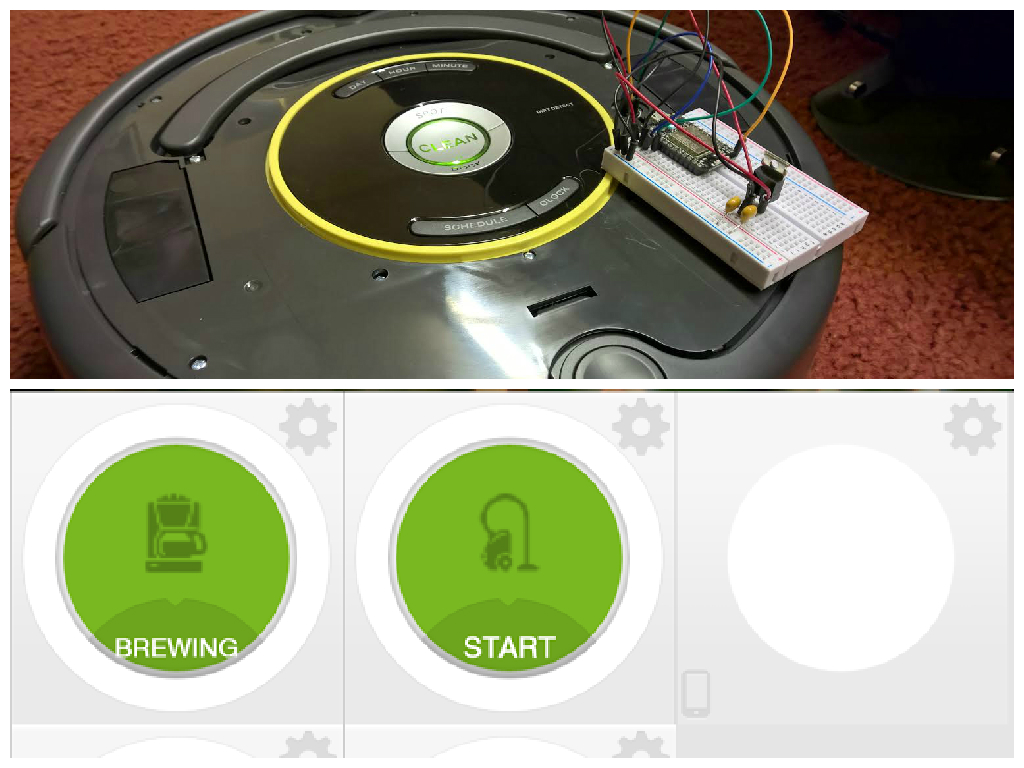 "Basically I wanted an easy way to schedule my Roomba when I leave the house. There are some solutions available such as the 'Thinking Cleaner' module, but it runs over $100, this setup using a Spark Core runs about $45, potentially $25 with a newer cheaper module they have. The 'Things' Menu allows you to quickly start the cleaning cycle. Programming it as a switch allows you to turn it 'On' when you leave and turn it 'Off' and send it to the charging dock when you arrive to ensure your apartment stays clean (and without any interruptions!)" – Camden
---
We even got several entries showing off how people are using SmartThing to control and monitor their home from their wrist…
Grant is using his Apple Watch and the new SmartThings iOS app to trigger Hello, Home actions: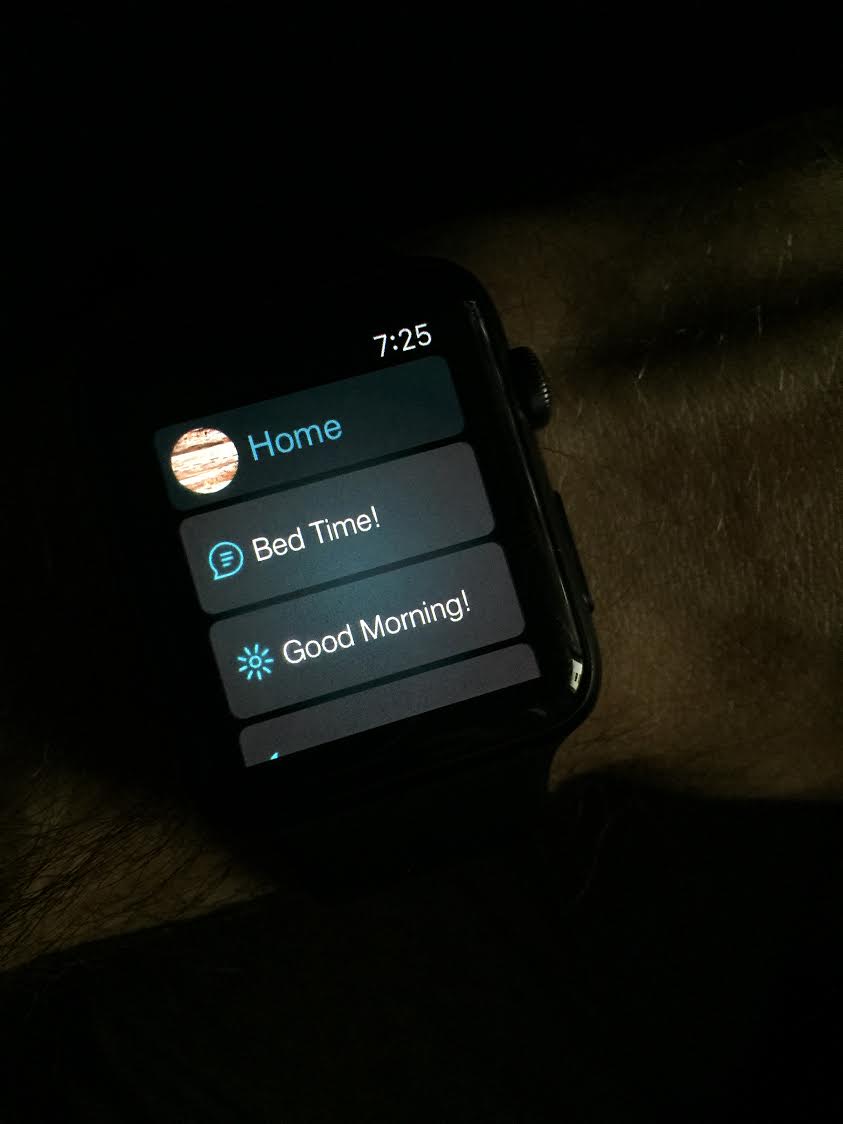 "What time is it?!?!?!" – Grant
Jeffrey is using an Apple Watch, the SmartThings app, and a SmartSense Multi sensor to get notifications when his mail arrives: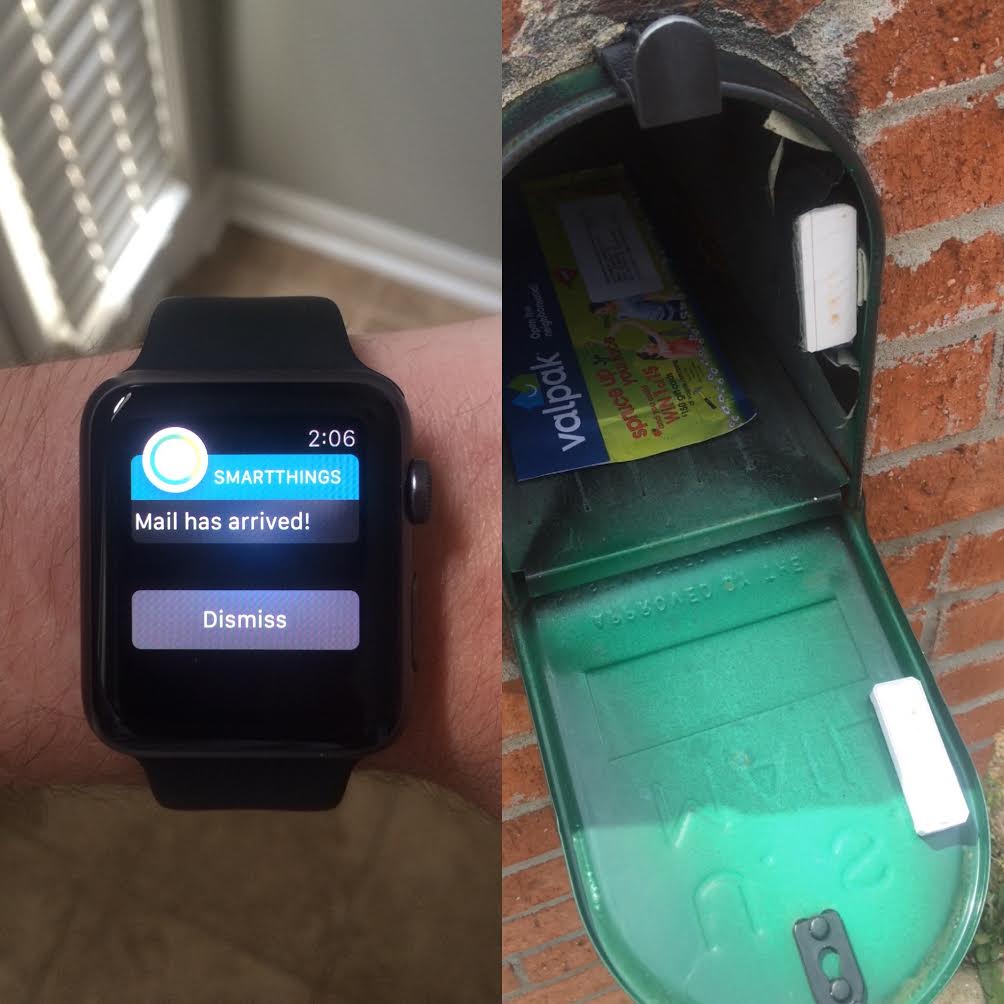 ---
We got entries that are super detailed and diagram-y…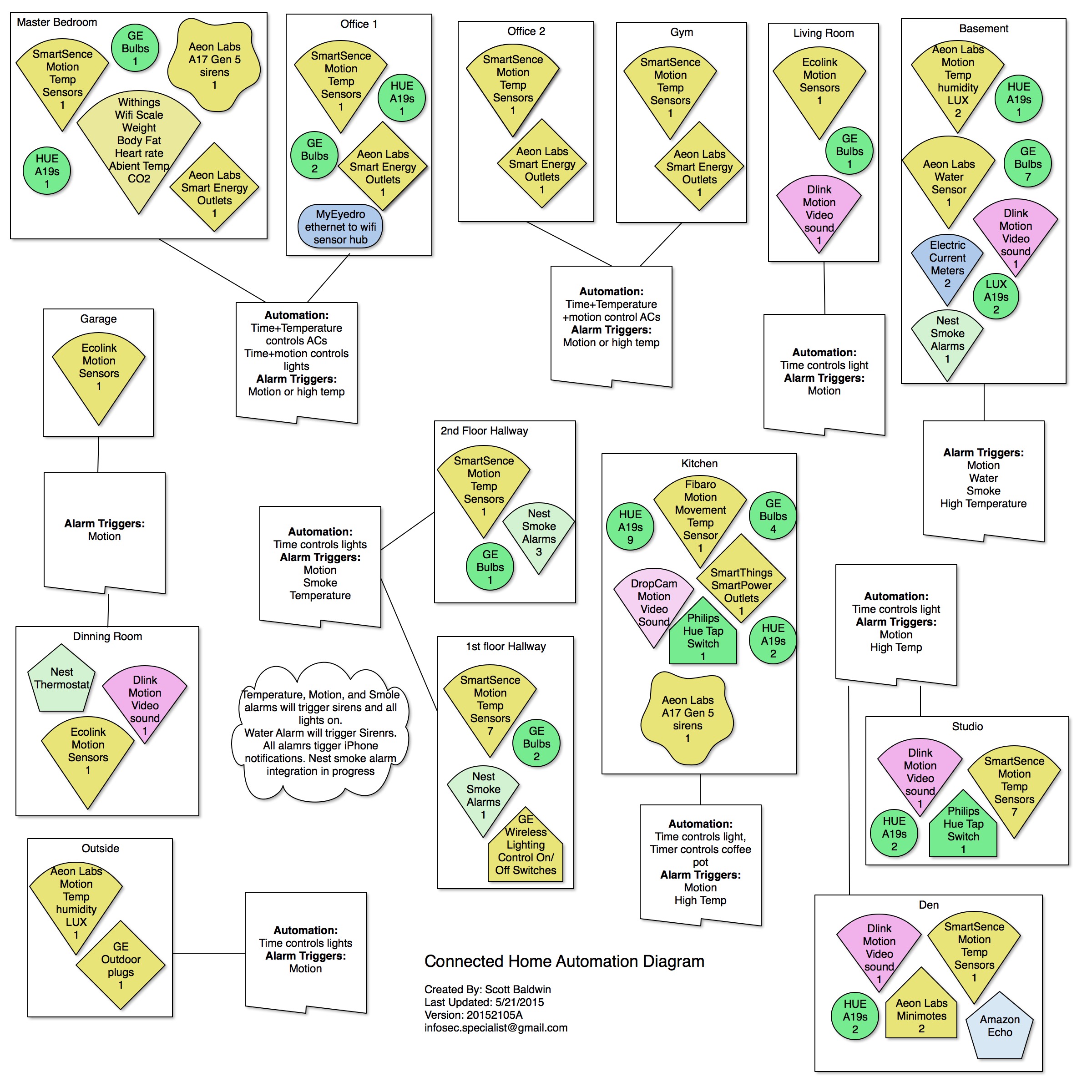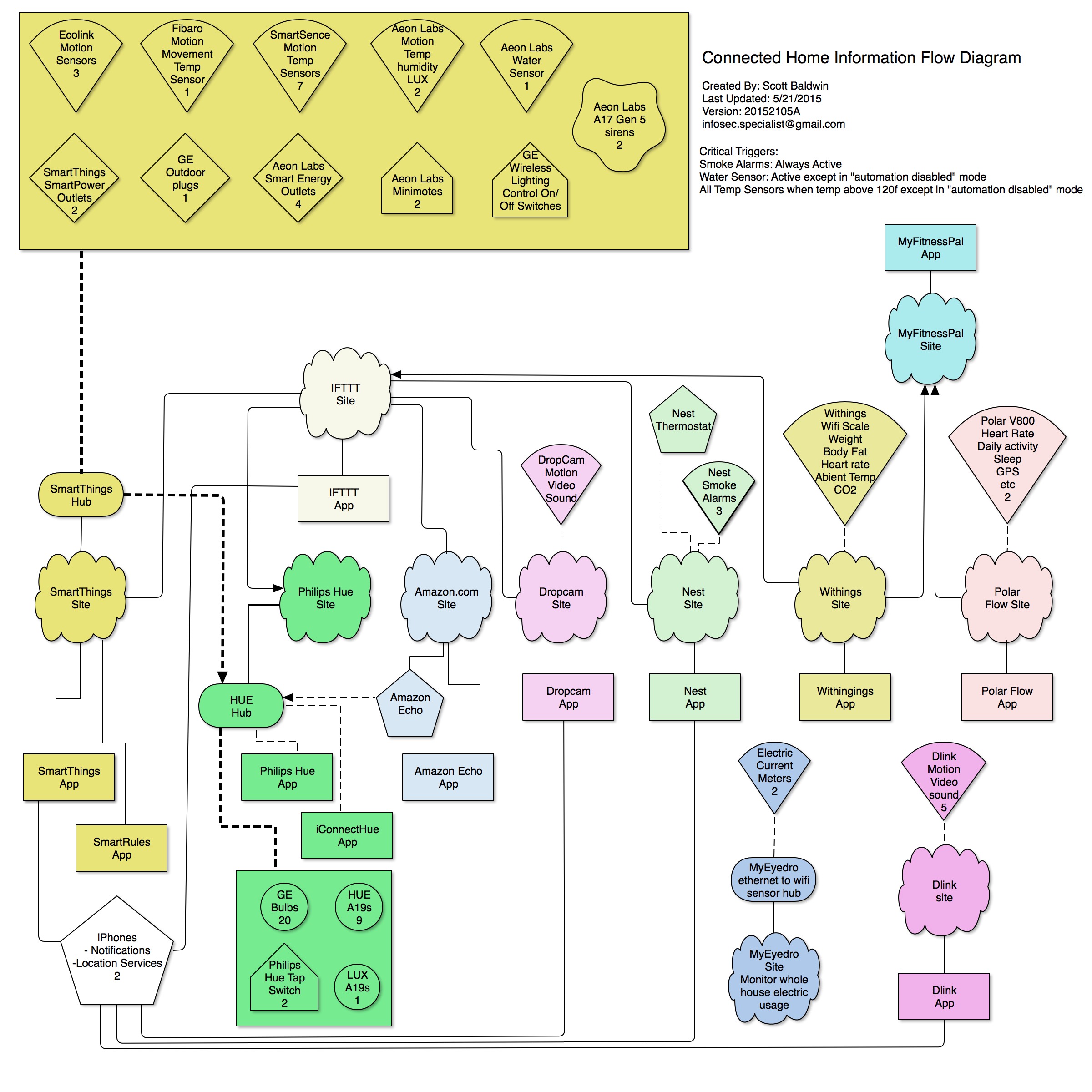 "I just recently got the hardware and plan to do a LOT more automation. I first started with the critical stuff and am now moving on to convenience-based automation." – Scott
---
And we got more simple entries that made us smile…

"How I deal with emergencies." – Olga
---
And this now brings us to our honorable mentions. Cue the drumroll…
Our fourth runner up is Daniel, who is using SmartThings at his Seattle office to let his coworkers know via Twitter when the company's two kayaks are available or out on a voyage:

"Our office has two kayaks with presence fobs (waterproofed, of course) that are available to loan out during the day when folks want to go kayaking.  The kayaks are named "Mr. & Mrs. Kayak"… It's tied into ST, into IFTTT (IF), and then to Twitter where there is feed that people can watch or be notified which shows if the kayaks are available (in the studio) to use or if they've been taken out. The Twitter feed is here." – Daniel
---
Our third runner up is Robert, who has integrated SmartThings with a boatload of other brands to get the party started with a single text:
"Here is a little video I put together of a SmartThings automation I made using SmartThings, Wemo Switches, IFTTT, Automator (watch folder), Dropbox and Siri to get the party started from a single text. Thanks for such an awesome product that lets me bridge so many platforms and protocols." – Robert
---
Our second runner up is Cassidy, who is using SmartThings to make his morning easier, enhance his entertainment system, and add a bit of elegance to his apartment balcony:

"Smart coffee, powered by SmartThings." – Cassidy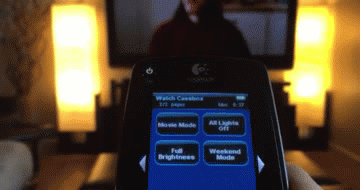 "Logitech Harmony One SmartThings integration." – Cassidy

"Demo of our balcony lighting." – Cassidy
---
Our first runner up is Eric, whose video-editing skills go a long way in showing off how his house automatically reacts to his patterns and preferences:

"Hello smart people at SmartThings! Here is our SmartThings home! Enjoy!" – Eric
---
Our grand-prize winner comes from John. We've seen lots of smart houses and smart apartments, but we've never quite seen anything like this. In order to fully appreciate the backstory behind John's setup, you'll have to read his story. It deserves its own post, so be sure to check back on the blog tomorrow ;-)
[UPDATE:] John's story is now up. Check it out here!