Meet a SmartThings Developer: Ronny Carr
We're proud to support a growing community of developers who collaborate with each other and invent new ways to use SmartThings. This community is propelling the open platform for the Programmable World.
In the latest installment of a series shining the spotlight on developers in the SmartThings community, we're going to get to know Ronny Carr, a Tennessee native who loves hiking, climbing, and rambling through America's national parks.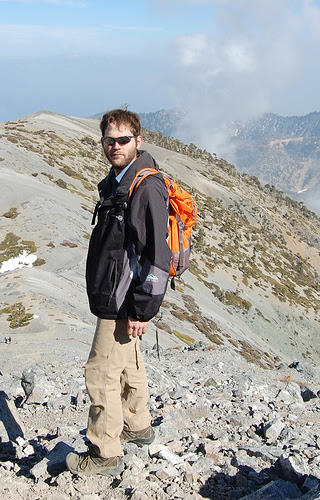 ST: Hey, Ronny! Why don't you introduce yourself and tell us a bit about your background.
RC: I am a web developer, so I sort of have a tech background. I've been a front-end web developer for four years now since I've been out of school. That's certainly helped me and it makes it much more comfortable to just dive in to hacking, making, and customizing SmartThings.
ST: What sparked your interest in home automation?
RC: The dream of a home that responds to me automatically has been around for as long as I can remember. Thankfully SmartThings got me to make the jump!
ST: How did you initially discover SmartThings?
RC: I first read about SmartThings on a tech blog, I feel like it was probably Engadget. I backed the project on KickStarter almost as soon as I finished reading the article!
ST: Back in May, you wrote a really great story on the Community forum about how you were able to use SmartThings to create a Connected Aquarium. What was the initial inspiration behind the project?
RC: I spend a lot of time doing maintenance, generally watching the fish tank, and I was looking for a way to bring that into SmartThings. I looked around and there really wasn't anything for monitoring the tank outside of the standard moisture detector, so I decided to build my own with a Raspberry Pi, camera, and a temperature sensor. It's pretty basic and just gave me a way to monitor the temperature while I was away. I can easily get alerts if the water temperature gets too hot or too cold, and the camera gives me snapshots throughout the day in case something goes wrong. I just wanted to stay on top of things.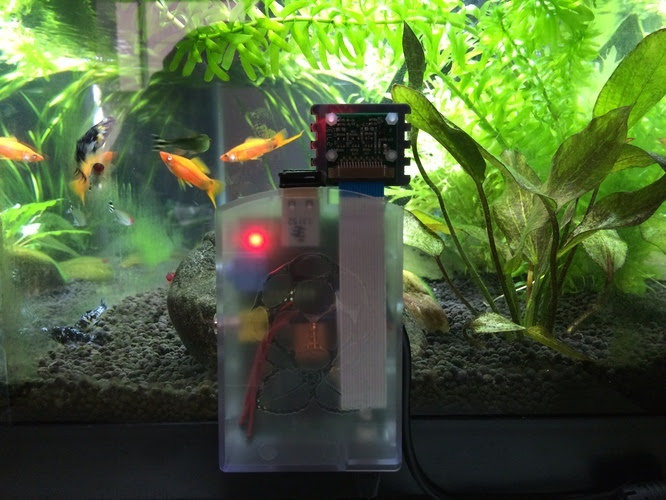 ST: Since you created the Connected Aquarium, has there a specific instance where you were especially glad you had your system ready?
RC: I've been pretty fortunate. I haven't really had any issues with things like equipment failure where I would be alerted, say, if the heater malfunctioned. It's actually been pretty nice to not have an emergency with it. However, there have been instances where the temperature outside has been hot enough that the water is heating too quickly, so I'll bump up or turn down the heater as needed based on that.
ST: How did you initially design the Connected Aquarium and have you made any updates in the four months since its completion?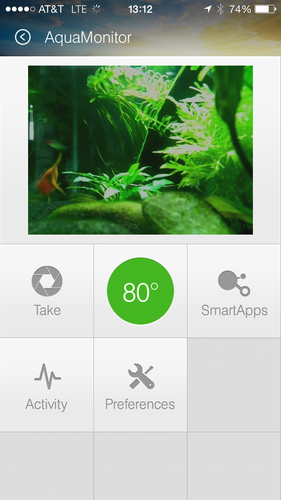 RC: Initially, I was mainly interested in water temperature, so I put together the needed components such as Raspberry Pi, the water sensor, and the temperature sensor. I went online and took advantage of tutorials that existed. Of course, temperature sensors are really popular with the Pi, so it wasn't really hard to find. I just went through getting it set up on the Pi and configuring it the way I needed. I then started creating the device type using the different documentation available and using some other things people have done in the Community as a model. It was very easy to get going and the hardest part was really the Raspberry Pi itself. Integrating it with SmartThings was easy. Expanding the camera came a little bit later once I got the temperature and everything running. That's when I set up the Web app, which gave me an easier way to get the temperature and other data.
Since finishing the project, it's been on the backburner as I've taken on different projects. I haven't really expanded it much. I did eventually get a z-wave water sensor. I'd like to eventually get a water level sensor, attach it to the Pi, and have the water level readings so I know if it drops too quickly.
ST: Do you have any other SmartThings projects in the works?
RC: I do. Right now, my main project is an entertainment system. I don't have it quite where I want it, but at this point I do have some different pieces I've been using from the Community. I've been doing a lot with a third-party Sonos API and I've connected SmartThings into that instead of the SmartThings Sonos integration. I'm kind of all over the place just trying to get as broad a spectrum of projects as possible. I don't want to get too deep in one particular area.
ST: As a long-time user, what are your observations on how SmartThings and the ST community have grown?
RC: It's been a really interesting experience to see everybody coming together and building all these different device types to bring all these products under one system. The Community has been an incredible help. I feel fortunate to have seen the platform grow and to have a voice in what direction it's moving. Through the entire process, I've never felt that SmartThings was not listening or that they were ever slacking off. There's been constant communication throughout the online Community and it's been a really great experience.
ST: Is there a project you've seen in the Community that really sticks out to you–maybe not necessarily as an inspiration, but something you thought was cool?
RC: Aww man, there's really been so many. Recently, I know you guys just did a blog post on the home automation dashboard and that's something I've had on my mind for a while. Having something easy to control certain features while you're at home so you don't have to use your phone… I thought that was incredible. Mostly, what I've been impressed by is what people have been able to do with SmartApps. It's been really impressive. The smart alarm is really big right now in the forums. To see how SmartApps have matured with what all can be done is really great. Another area I'd like to get into a little bit more is focusing on all the new capabilities with apps, so I've been motivated recently by what I've been seeing come out in that area.