Meet a SmartThings Developer: Brian Steere
We're proud to support a growing community of developers who collaborate with each other and invent new ways to use SmartThings. This community is propelling the open Platform for the Programmable World.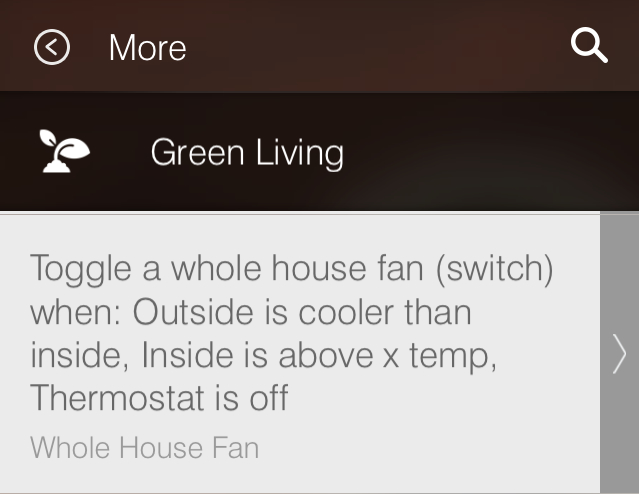 In the fourth installment of a series shining the spotlight on developers in the SmartThings community, we're going to get to know Brian Steere, who is the architect behind the new "Whole House Fan" SmartApp that we recently published in the Green Living category of the SmartThings app.
ST: Hey, Brian! Why don't you introduce yourself.
BS: I'm Brian, my username on Twitter is dianoga7; my Github profile is https://github.com/Dianoga; and my Website is http://3dgo.net. Though in all honesty, I'm not that active in most of those places. Usually, you'll find me on the SmartThings Community forums (I'm Dianoga).
ST: Do you primarily write software (hacker) on the SmartThings Platform or create new devices (maker)?
BS: Currently, I'm mainly a software person, though I'm hoping to dabble a bit with the making bits. I'm currently in need of a better automatic pet feeder…
ST: How did you first hear about SmartThings and what attracted you to it?
BS: I heard about SmartThings from a friend who was a Kickstarter backer. I had always been intrigued by the idea of home automation and SmartThings looked like a good way to get into it.
ST: How do you use SmartThings in your life today?
BS: Primarily for convenience and to save energy. My Nest thermostat adjusts to "away" and "home" based on whether or not anyone is within 2km of the house. I have a whole-house fan that kicks on whenever it's cooler outside than it is inside, but only if the thermostat is off (which happens automatically when I open a window). I've also got a light that turns on every night at sunset and stays on until 10pm. After that, it becomes motion-activated until sunrise.
ST: What are some fun/cool things you've built with SmartThings?
BS: The whole-house fan was pretty satisfying. It was pretty quick to build the app, but it's still exciting when I open a window and the fan kicks on. Also, working on the unofficial Nest thermostat integration was fun for me. I really enjoy building things that other people find useful.
ST: What are some of your favorite things that you've seen other developers in the SmartThings community create?
BS: I love seeing all the things that people are able to tie into the system. It's been great working with a Platform that really does let people do what they want. As far as specific neatness goes, the Bartendro integration that Juan Pablo Risso made was pretty neat. And I just recently purchased a Sonos purely because it was supported by SmartThings.
ST: What one thing would you like to see added to, removed, or changed about SmartThings?
BS: I have so many ideas for extending SmartThings, but if I had to pick just one… it would probably be adding an advance rule-builder as part of a Web interface. Something like that probably would have allowed me to build the whole house fan without having to write an app to handle it. And I generally prefer a Web interface so I can interact with things on a larger screen with keyboard/mouse control.
ST: What excites you most about the future of SmartThings and the open Platform?
BS: The open Platform part is what excites me most. Giving people the ability to do whatever they want with whatever devices they have is fantastic. And as the home automation idea picks up speed, I would expect most of those devices to start dropping in price which will enable even more things. It should be a delightful circle.

Also, someday we'll be able to build Jarvis (from Iron Man) and that day isn't very far away.
ST: What tools do you use most often when developing for SmartThings?
BS: I use SublimeText for any of my more complicated code bits. Github for sharing the code bits. The SmartThings web IDE for saving the code bits. And my Nexus 5 and the SmartThings Android app for actually controlling real things.
ST: What else would you like to say?
BS: Seriously, building Jarvis isn't that far off. If we ignore the super-advanced AI bits and the ability to fly Iron Man suits, we could probably do it today. Might be a good candidate for the next Hello, Smart Home video. Sonos + Ubi integrations, throw in your choice of thermostat, sensors and switches, Netatmo for local weather (or a PWS that ties in to Wunderground)…
I need a bigger budget.