Inside the SmartThings Workshop
How to Start Building SmartApps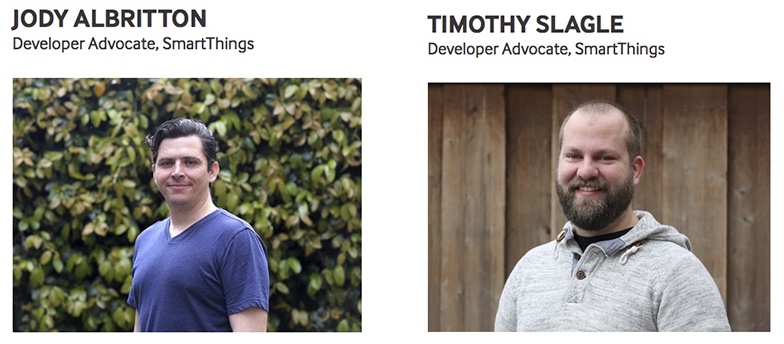 Next week on Tuesday, April 26 from 2:00 pm to 5:30 pm/PT, we're kicking off #SmartThingsSDC with a hands-on workshop for developers who want to get an introduction to building apps for the SmartThings Platform. Hosted by our developer advocates Jody Albritton and Tim Slagle, this workshop is designed for pretty much everyone attending the Samsung Developers Conference interested in creating applications for connected devices and the Internet of things.
"This is the entry point into the home for every developer," as Tim puts it. "It also allows you to create any automations you want, as well as integrate other devices and services with an API."
Attendees will get to build a starter automation SmartApp and a starter Web Services SmartApp — beginner lessons in getting automations and integrations into the SmartThings platform. The workshop is open to anyone with basic object-oriented code knowledge and intermediate experience in developing — just be sure to bring your laptop and your ideas for SmartApps.
To start preparing now, take a look through the SmartThings documentation and our guide to getting started, which should give you a good introduction to the developer tools we have available. Here are the key features:
A simple programming framework using the Groovy programming language.
An architecture that allows developers to control hardware with simple software. Turning a switch on is as easy as switch.on().
A web-based IDE for developing SmartThings solutions.
A simulator for testing your code, even if you don't have specific devices you are developing for.
An active and growing community of SmartThings developers.
Have questions about the workshop? Get in touch with Tim on Twitter @tslagle13, and Jody @jodyalbritton!
Sign up for exclusive deals, tips, and news